Wacky Neighbors Who Make Life More Interesting
Neighbors are like family. You don't get to pick them. Most people have at least one neighbor horror story that made their life harder. There's the loud neighbor, the grouchy neighbor, and the nosy neighbor who is always trying to get in your business.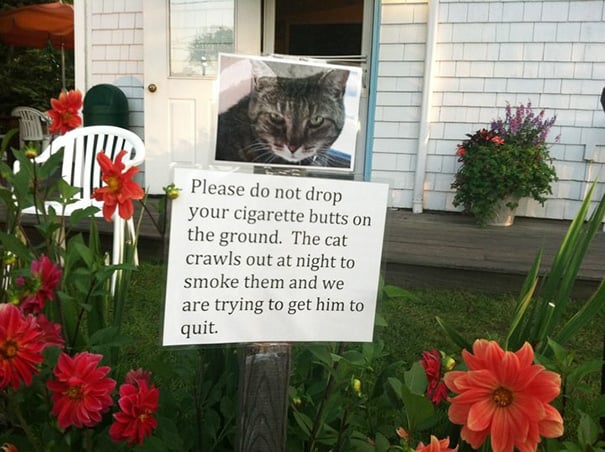 Love them or hate them, neighbors do make the neighborhood a more interesting place. Take a look at some of these anecdotes about silly, wacky, and confusing neighbors. From neighborhood feuds to funny pranks, these neighbors all contribute to a more interesting living environment.
Child Support
This person adopted the neighborhood stray cat and their neighbor's cat got her pregnant. Kittens were a little more than they signed up for when they took in the stray! Lucky for them, the neighbor is willing to help.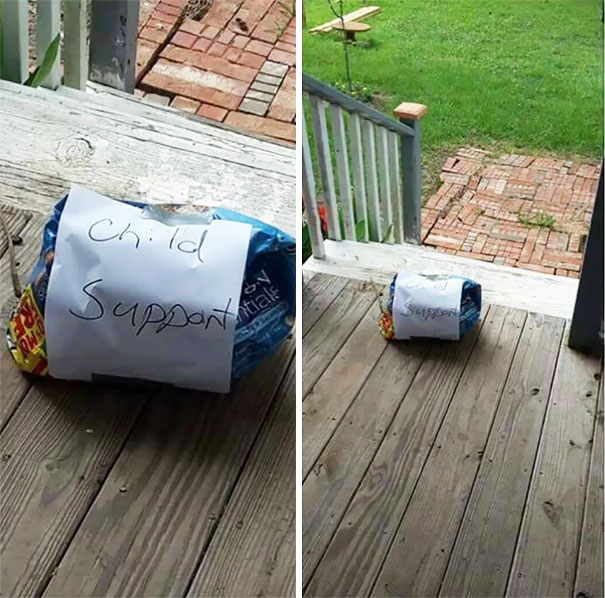 They woke up to this child support package on their doorstep. It probably contains some cat food, litter, cat toys, and other essentials to help the owner of the stray raise the kittens. How considerate! We have to admit, this is a hilarious way to offer up their help. 
Wacky Neighbors
Sometimes it's best to try to not understand your wacky neighbor but to just appreciate them for all their weird quirks. This couple takes their parrots out for walks every day! Is someone going to tell them that parrots do not need walks?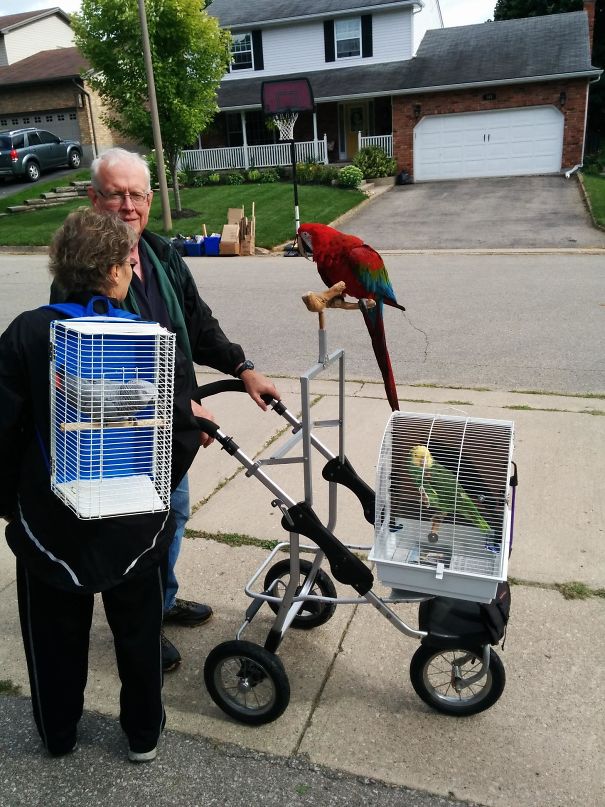 Owning birds is not the same as owning a dog. But maybe this is just a way for them to get out of the house and meet people. You must admit, wearing a parrot in a backpack cage is an effective conversation starter. 
The Banana Thief
This little guy showed up at his neighbor's door, requested a banana, and headed home. We're not sure if he was in dire need of some potassium or just looking for a snack at the end of a long day. Either way, we respect his bravery (and his fashion sense).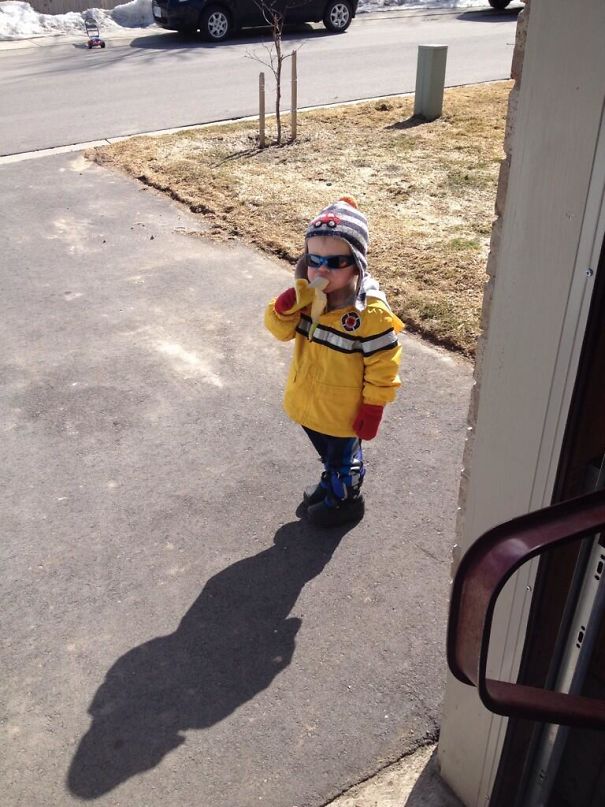 We can only imagine the surprise of this person when he showed up and made his request. This person shouldn't be surprised if this little dude continues to pop in for a snack. As far as neighbors go, this is one you don't mind having around. He's keeping things interesting.
Clever Signs
Most people have to respect a clever sign. When your neighbor is dropping their cigarette butts all over your lawn, a funny sign is a good way to get them to stop without causing any animosity. Blame it on the cat! Judging by that picture of the cat, we do not doubt that he is stalking around in the night trying to find cigarette smokes to smoke.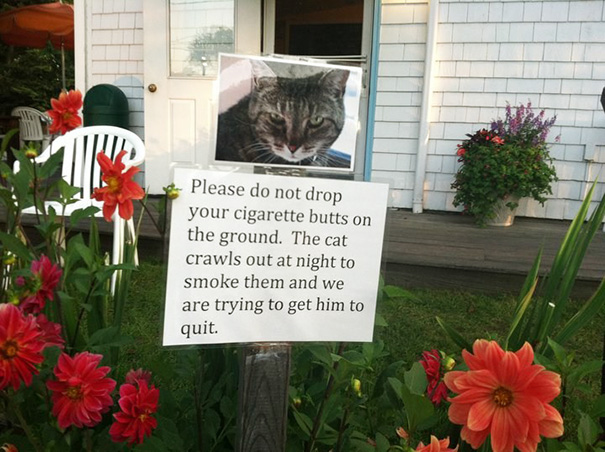 We hope this sign was effective and gave everyone else in the neighborhood a good laugh. It looks like that furry guy has his eye on anyone who is thinking about discarding their cigarettes on the ground and we sure wouldn't want to get on his bad side. 
Meeting Of Watermelons
We're sure people have seen some pretty crazy things through the windows of their neighbor's homes, but this person got a sneak peek into their neighbor's personal life that is just too bizarre to make any sense of.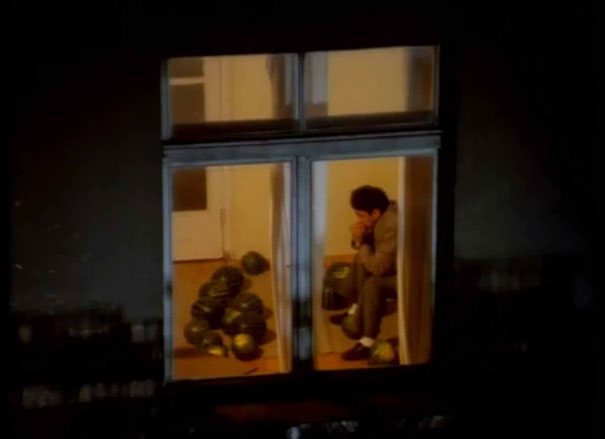 The man seems to be deep in conversation… with watermelons. This person looked through their window at 3:00 A.M. to find their neighbor in a seemingly serious meeting with a bunch of fruit! What could they possibly have to discuss? We wonder if they ever got answers on this one or if they just decided to steer clear of Watermelon Man from this point forward.
Neighborhood Feuds: Google Maps Edition
Neighbor feuds are not uncommon. It's not easy to get along with everyone in your direct vicinity. One neighbor lets his grass grow too long or makes too much noise and then a battle begins. But these neighbors took their feud to a whole new level.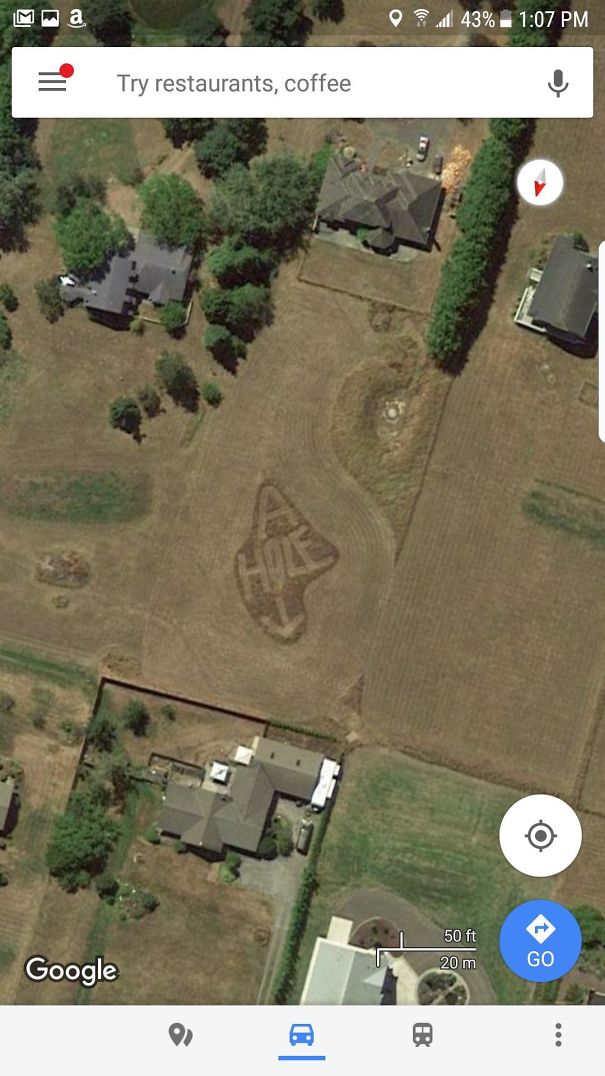 This person personally carved out a choice name on his land so that even pilots in planes above and anyone on Google Maps would be able to see what he thought of his neighbor. This is a pretty extreme move and we have to wonder if the label is warranted or not. What might the neighbor have done to deserve this?
Are You Happy Now, Bob?
Feuding neighbors often get their start when one party doesn't take care of their property in the eyes of the other neighbor. Bob was fed up with looking at his neighbor's ugly fence and asked him to paint it (probably on more than one occasion).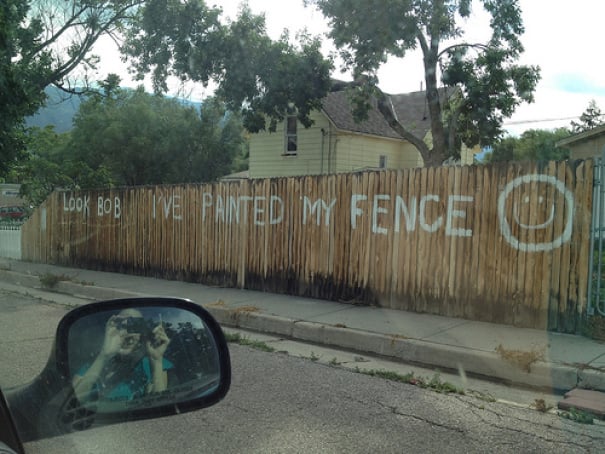 This neighbor did not take too kindly to being told what to do, so he made this little act of defiance for the entire neighborhood to enjoy. Technically, he did paint the fence, just not in the way Bob would have liked. Be careful what you wish for!
The Neighbor Who Wants To Be Left Alone
Not everyone is looking to make friends in the neighborhood. Some people just want to be left alone. It seems there's always at least one grumpy person in the neighborhood that stays to themselves and doesn't care to make conversation at the mailbox. This is one way to ensure you won't be invited to the next block party.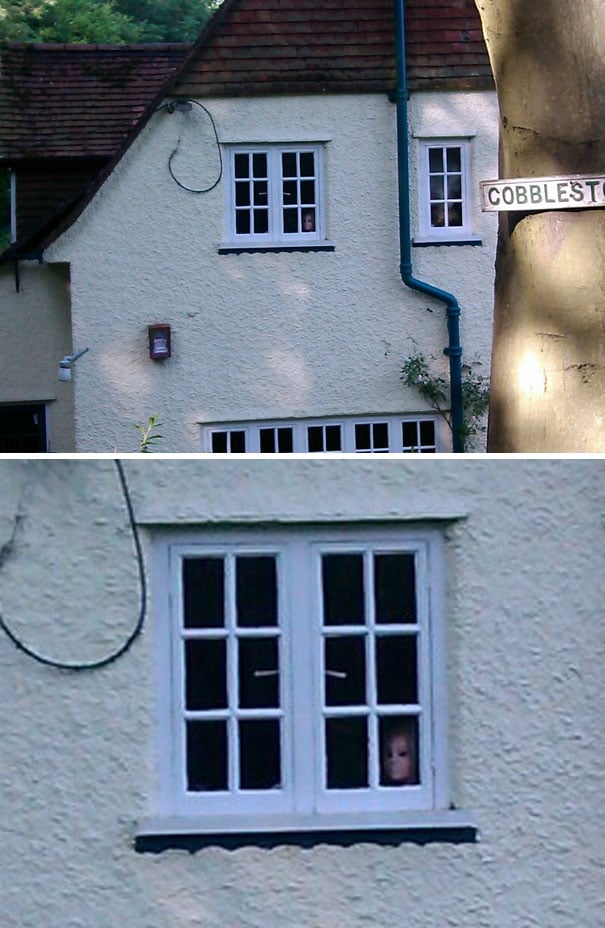 This person keeps a super creepy doll perched in the corner of the window so it looks like someone is staring down at you at all times! It's like a scarecrow but for people. It's pretty cheap security and we can only assume it's effective in keeping people away. 
Godzilla's Garden
We can only guess what would inspire someone to keep a giant Godzilla statue in their backyard. They might be huge fans of the films or they're looking to scare off any thieves or burglars.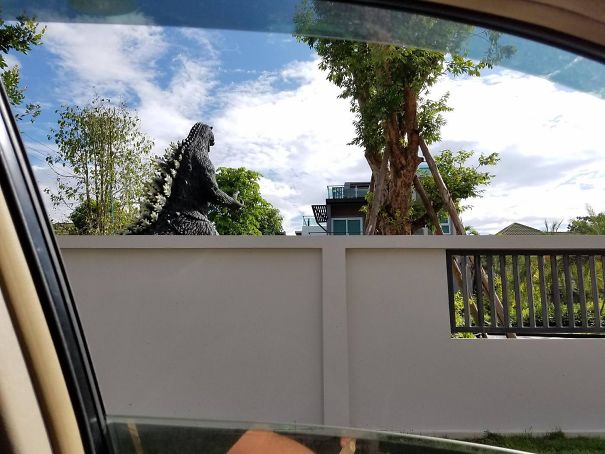 It's pretty cool and keeps the neighborhood interesting, so no complaints here. Everybody has their style and taste and this sure makes for some interesting decor. We wonder if they use it as a super intense scarecrow to keep birds away from their garden.
Home Security
Alarms, Ring doorbells, and cameras are all effective security measures that will give homeowners some peace of mind. But the real security is in this strategy right here. This neighbor keeps a life-size cardboard cutout of Dwayne "The Rock" Johnson in their front window.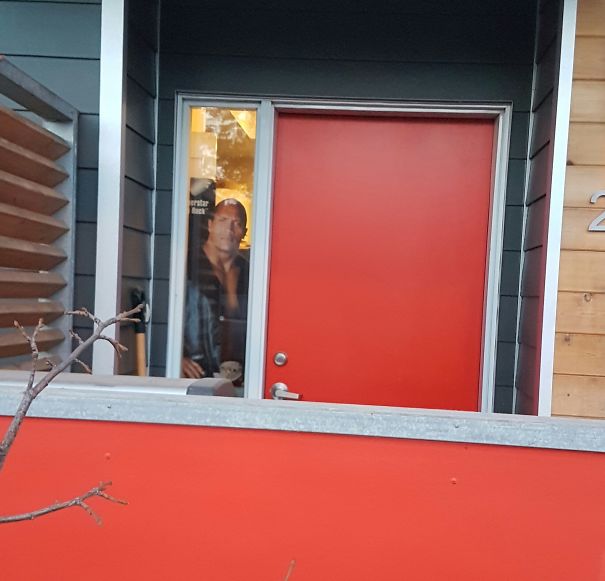 This is sure to make kids second guess ding-dong-ditching or egging the house. The Rock is the best security you could ask for. We definitely would not want to get on his bad side. We wonder if this cardboard cutout has alarmed some Postmates or UPS delivery people.
Neighborhood Kids
The neighborhood kids always seem to be up to something. This person always finds balls and toys in his backyard that the neighbor's kids accidentally throw into the backyard. This time they gave him a good prank.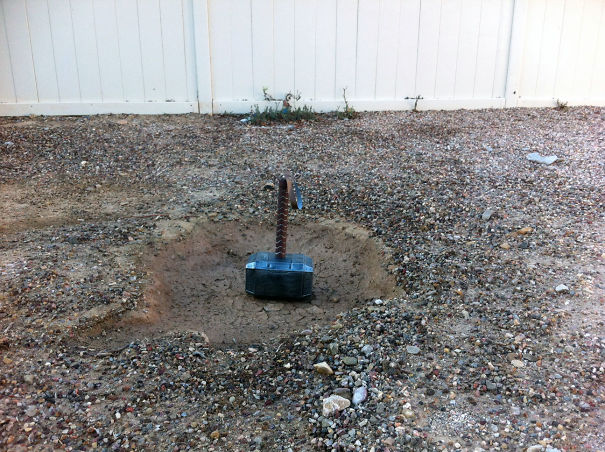 He came out into his yard to find Thor's hammer planted firmly in the ground. They even dug around where the hammer lies to make it look like it hit the ground with great force. We have to appreciate that the kids have a sense of humor and we hope this neighbor did as well. Points for creativity!
Wacky Birthday Party Theme
It looks like Jonathan had an interesting birthday party theme. This person found his neighbor's yard covered in small cows with a sign congratulating Jonathan on his 18th birthday. Maybe cows are his favorite animal?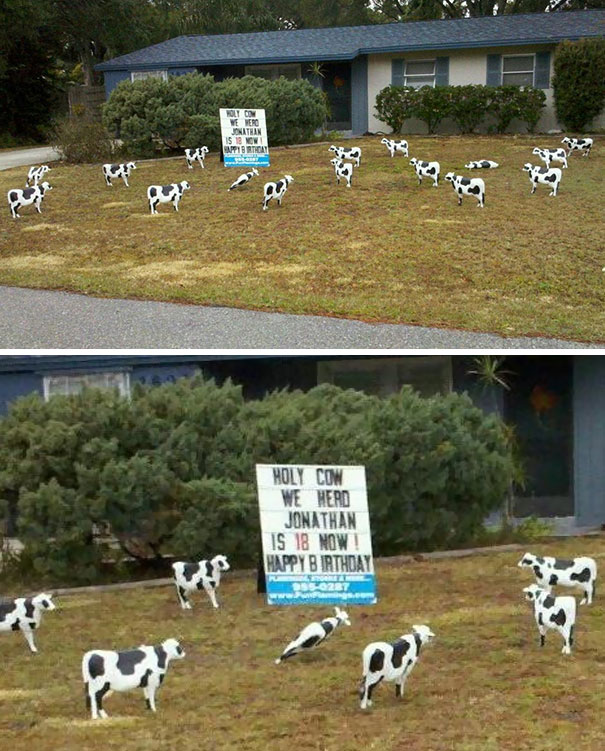 Sometimes, it's best not to question your neighbor's oddities. Although, we would be pretty confused too if we saw cows littering the lawn. Regardless, we hope Jonathan had an amazing birthday and that he was happy with the cow theme.
A Pirate's Life For Me
In one of the most surprising and creative examples of neighborhood fun, we came across this person who made their balcony into a pirate ship. We have to assume this idea came from a person who was cooped up in their home for too long and needed something fun to do with their time.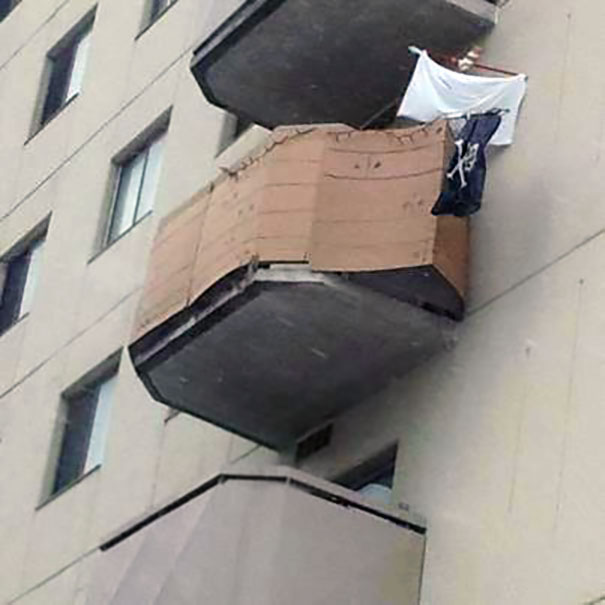 Maybe they had kids to entertain during the pandemic and so they transformed the balcony into a pirate ship that even Captain Jack Sparrow would be proud of. These are the fun kinds of neighbors we could use more of!
A Message For Maintenance
Sometimes, one sign is just not enough. One person came across these notes left for maintenance on their neighbor's door. If we had to guess, we'd say they're worried about the maintenance guy letting their cat out.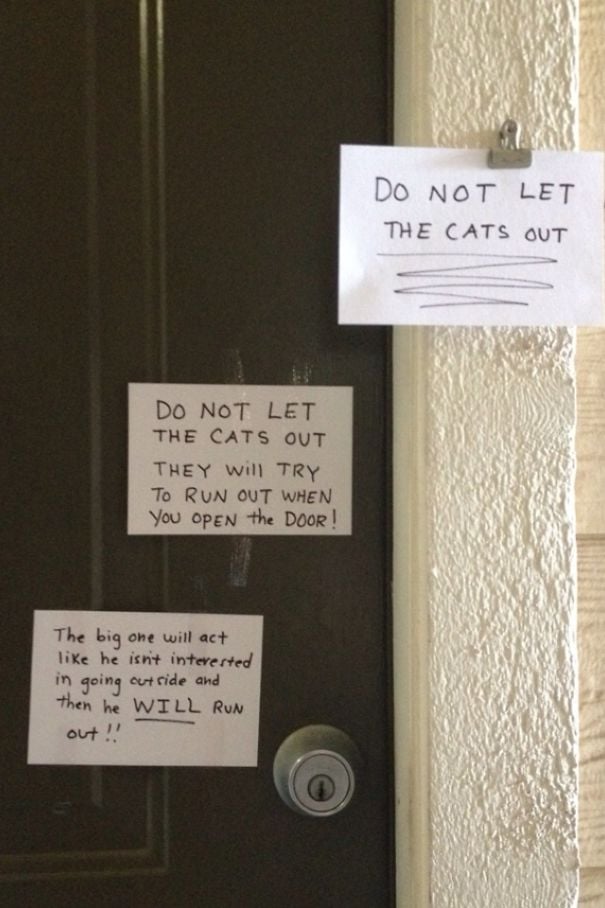 Each sign gives just a little more information. Better safe than sorry! To be fair, we have to assume maintenance was extra careful when opening the doors after seeing all three of the warning signs. That's a lot of exclamation marks so they must mean business.
Nutella Party
The new neighbors threw a housewarming party. You'd expect the trash and recycle bins to be filled the following day but more so with bottles of wine and beer. What they found was much more interesting.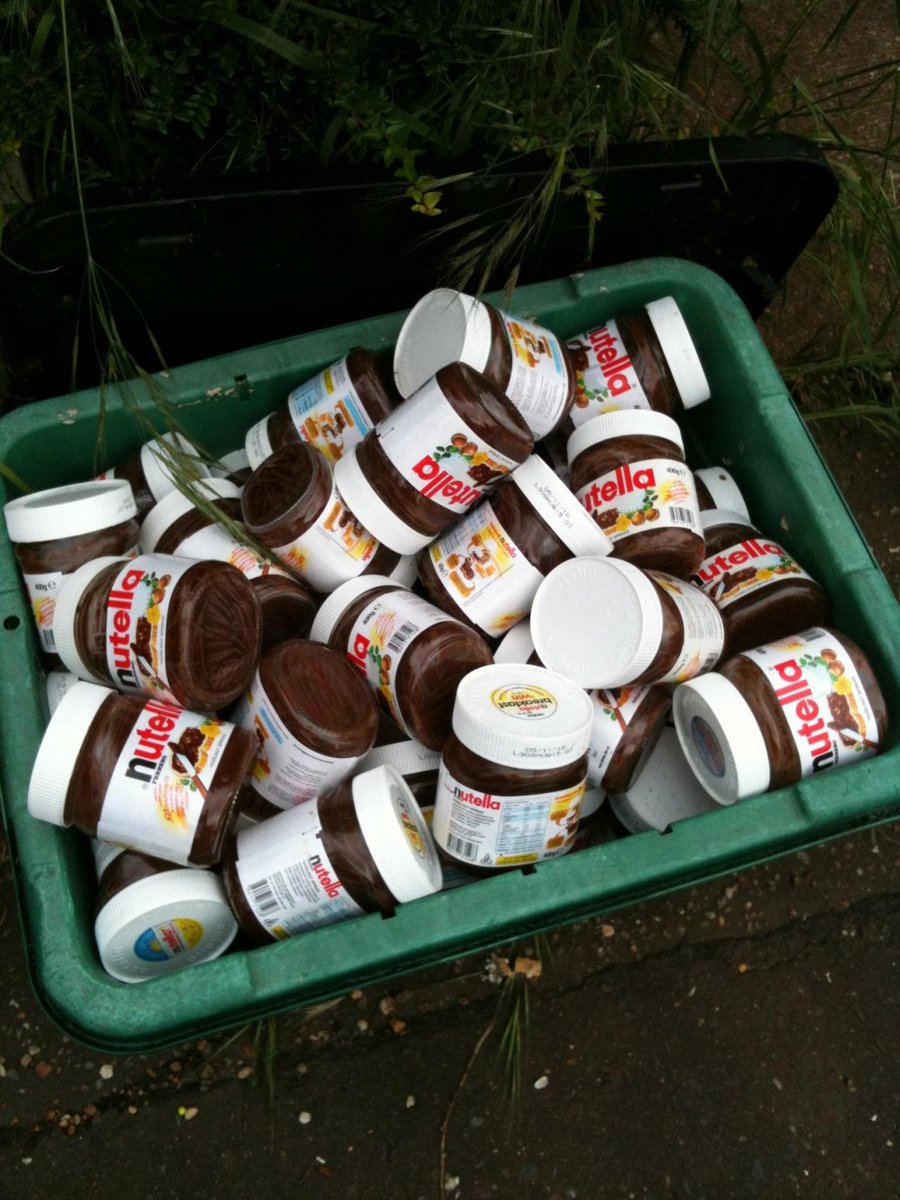 The trash bins were full of empty Nutella bottles, of all things. What kind of party was this? We can assume that they're in for a treat with these wacky neighbors.
Mystery Machine
If you saw this bus outside your window, you might assume that your new neighbors were Scooby, Shaggy, and the rest of the gang. Whoever drives this van must be a huge fan of Scooby Doo.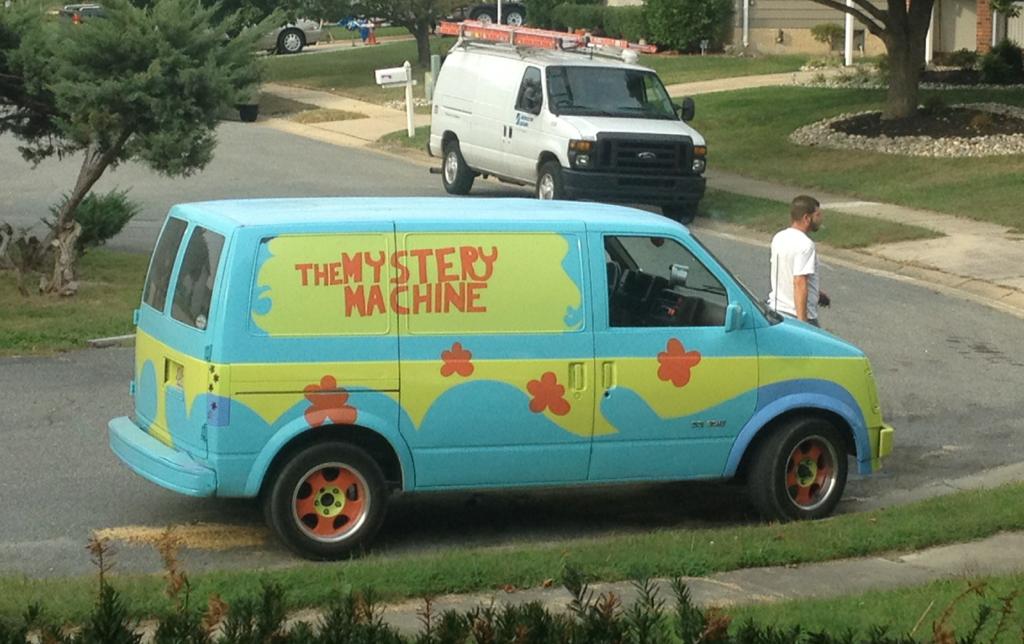 Or, maybe the can comes with its group of mystery-solving friends. Regardless, it's more interesting than most other cars, so they certainly make an impression on the neighborhood.
Decor That Is Out Of This World
You can tell a lot about a person based on the way they decorate their home. This, of course, includes the way they decorate their front yard. So what can we tell about these people with the aliens and a flying saucer in their yard?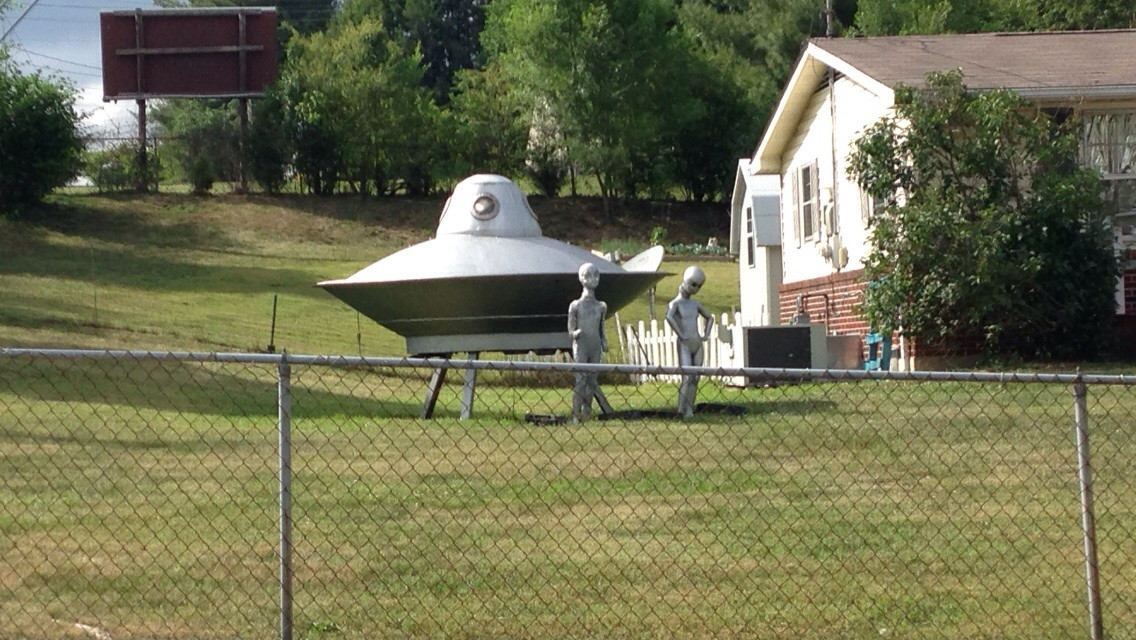 Are there aliens hiding in plain sight? Maybe they're just really into metallics. Whatever the case, we can safely assume that these neighbors will be anything but boring.
Probably Shouldn't Park Here
Well, if you're looking for one way to piss off this neighbor, you know how. We wonder how many people parked in front of their garage before they felt it was necessary to put this sign on the garage door.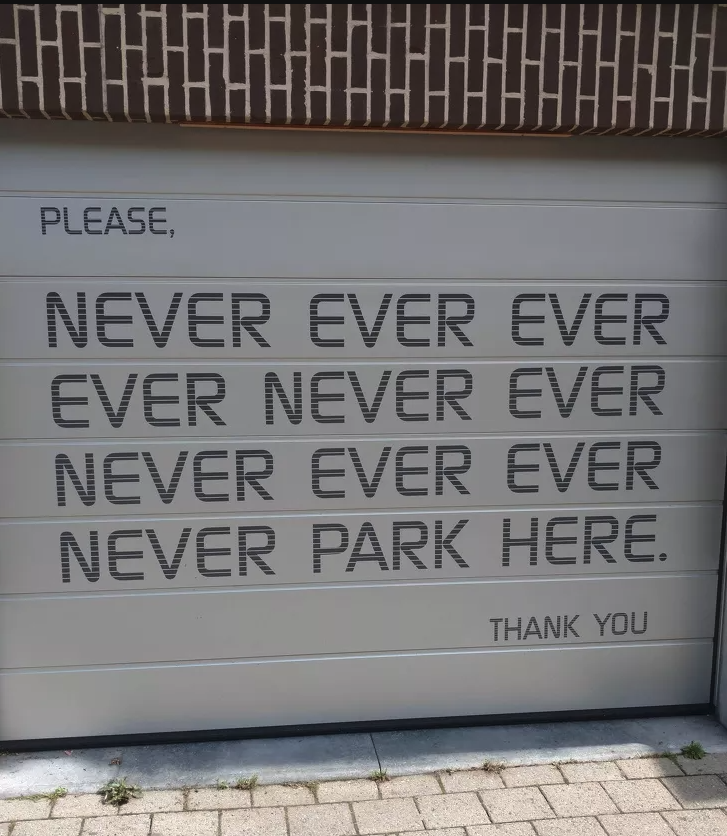 There must have been many! But this sign couldn't be more clear. Never ever ever ever park here. Plain and simple. As long as you follow that rule, we're sure you can still get along.
Elephant Cocktail
Imagine moving into a new neighborhood and seeing this decor in the front yard. This is perhaps the last scene I could imagine in a garden, and yet, here we are! We're not sure if this person is really into pink or animals, or just has a kooky style.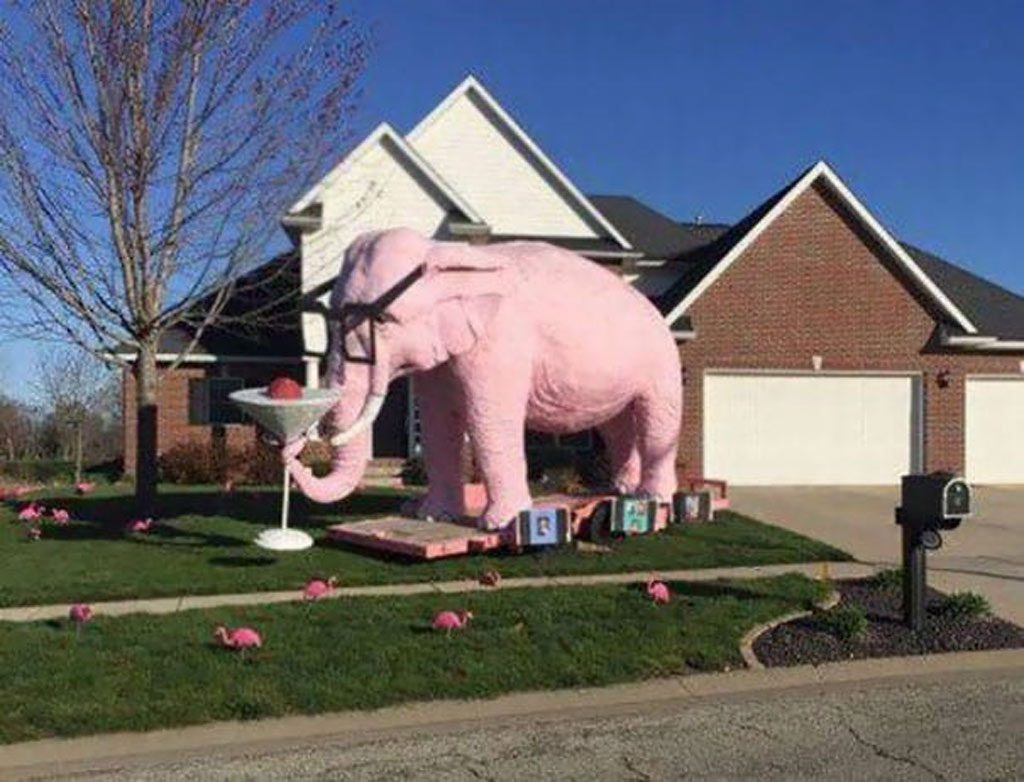 Not only is there an elephant in the yard, but it is pink and it has a martini in its trunk. To add to the scene, the drunk elephant is surrounded by tiny flamingos. The award for most interesting neighbor goes to…
Get Rid Of The Dandelions
We can't be sure what this neighbor has against dandelions but they sure don't seem happy about them growing in their neighbor's yard. Thankfully, the neighbor with the dandelions has the perfect solution.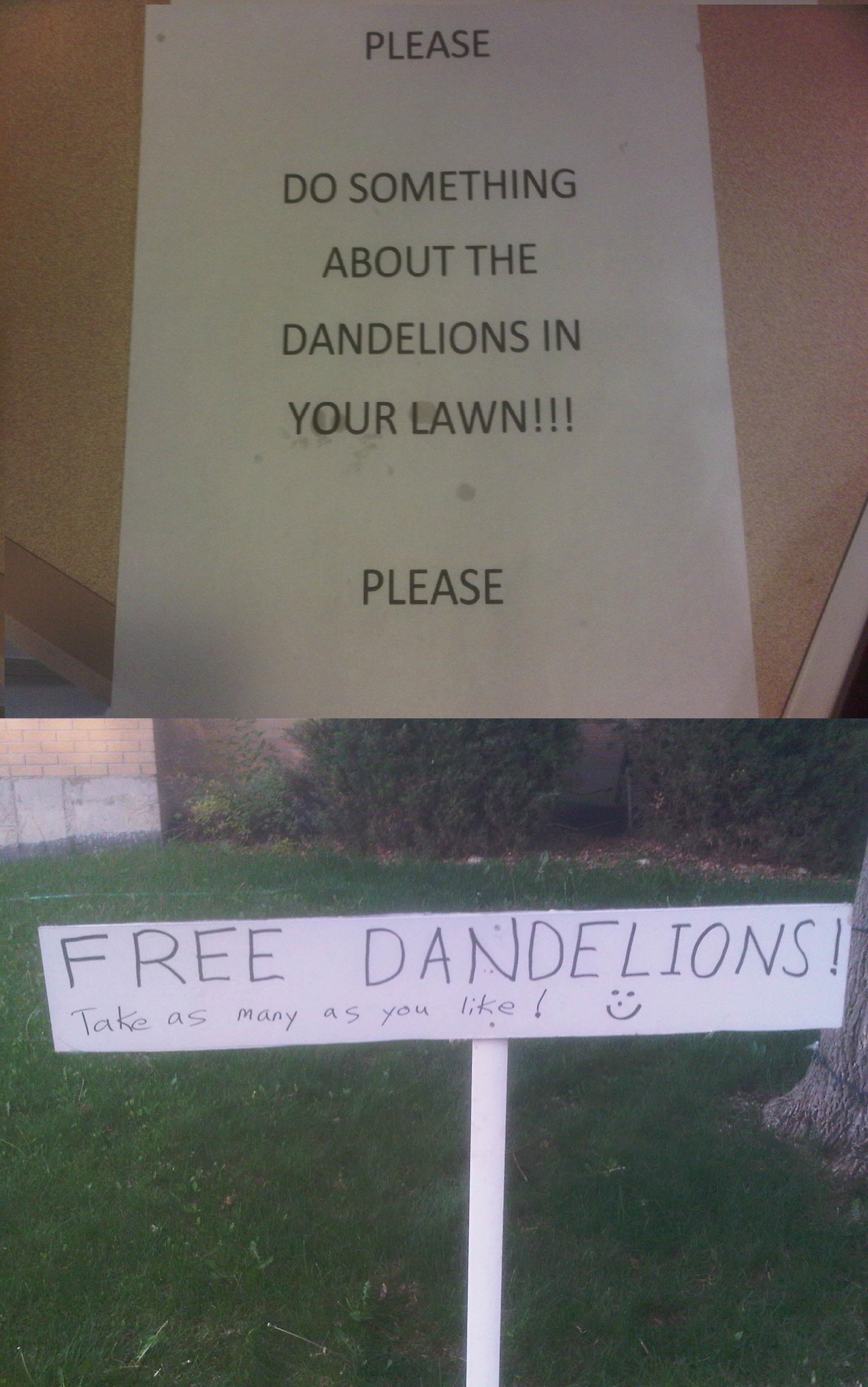 Put up a sign to give away the flowers! We wonder if this solution satisfied the cranky neighbor or only made them madder.
Jacuzzi Wars
This photo is a perfect example of "there are two kinds of people." The neighbor on the left is enjoying a nice hot tub complete with jets and bubbles. It looks like the neighbor on the right didn't want to miss out on the luxury of a spa.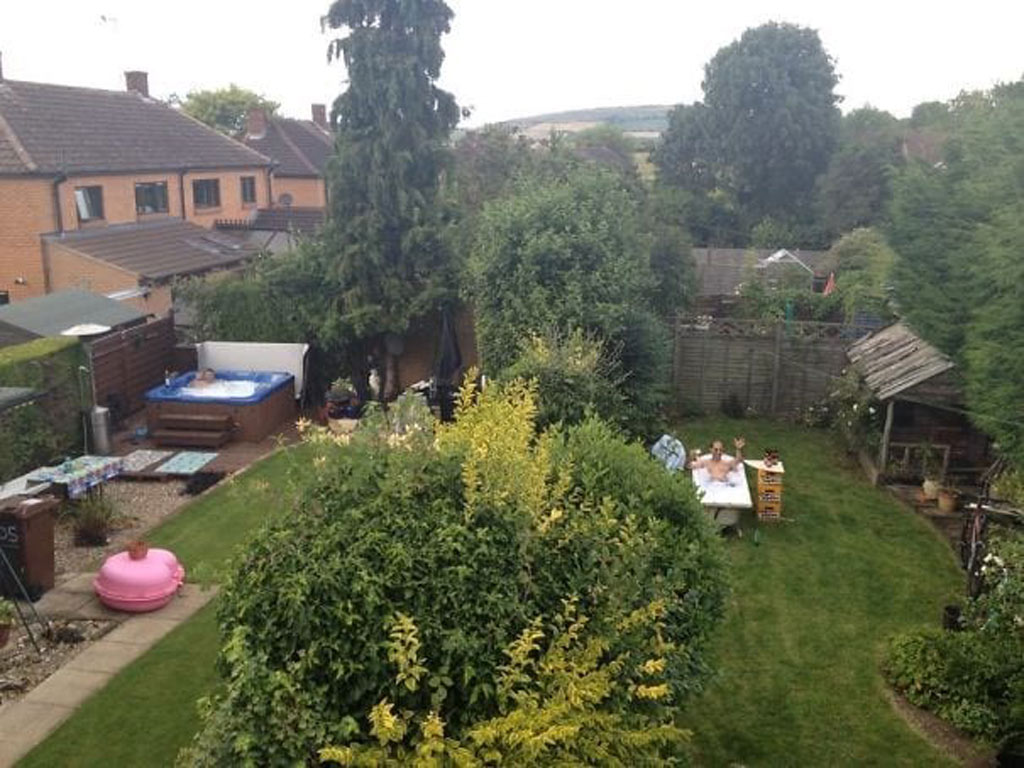 So, he went ahead and made a jacuzzi of his own in his backyard. And he looks to be having just as much fun, if not more. Who says you can't DIY a hot tub?
New Neighbor In The Gutter
This person looked through their window to find a new neighbor hanging out in the gutters of his neighbor's house. We're sure he'll find this little guy sniffing around the trash cans for as long as he's living there.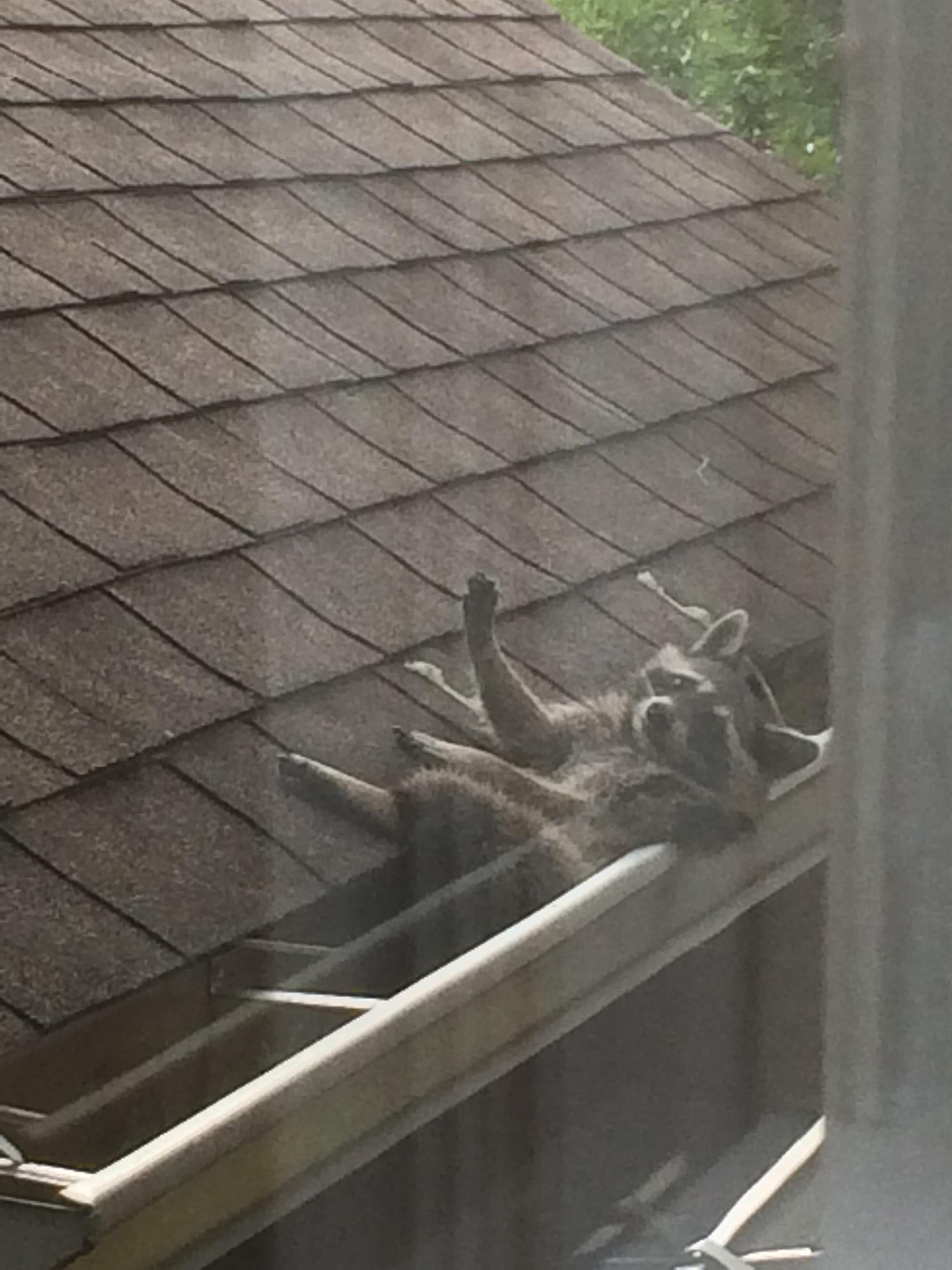 But sharing is caring! We're not sure how he managed to get on the roof or how he plans on getting down. But for now, he looks happy as a clam. And happy neighbors are good neighbors. So, keep on keeping on!
Snowball Fight
This guy has a neighbor who is kind enough to freeze one singular snowball each year and surprises him with a sneak attack year after year. This year, he has come prepared.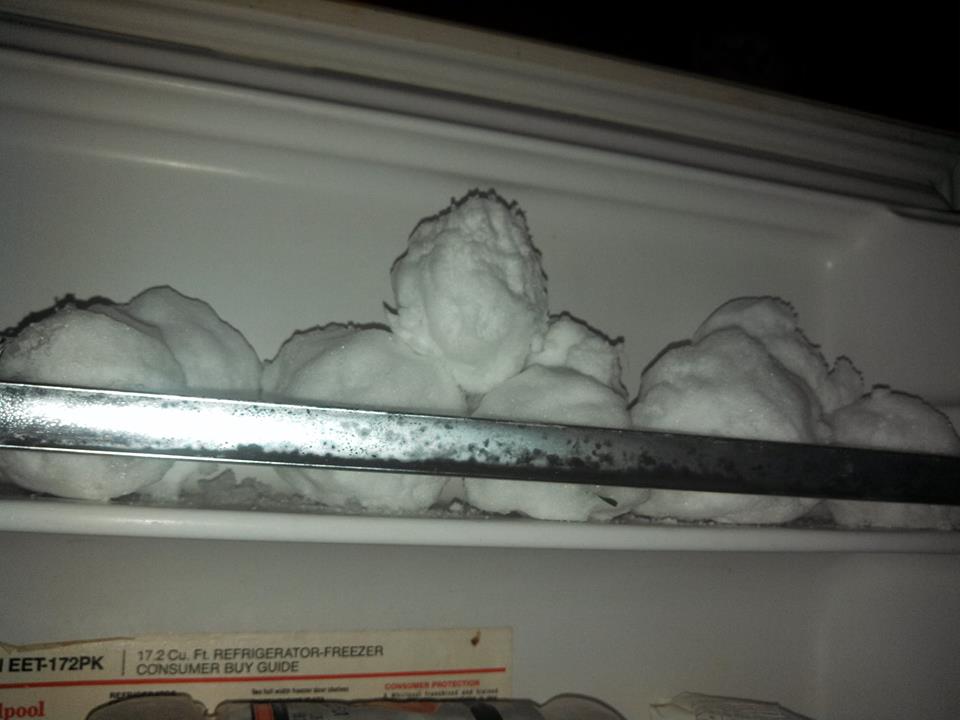 He has frozen many snowballs and is prepared to release fire on his neighbor when he least expects it. It's all in good fun but this looks like the beginning of a very involved snowball war!
A Perfect Gentleman
Imagine going on a stroll through the neighborhood to find this gentleman sitting on a bench, just minding his business. This looks like just the kind of neighbor we would all love to have.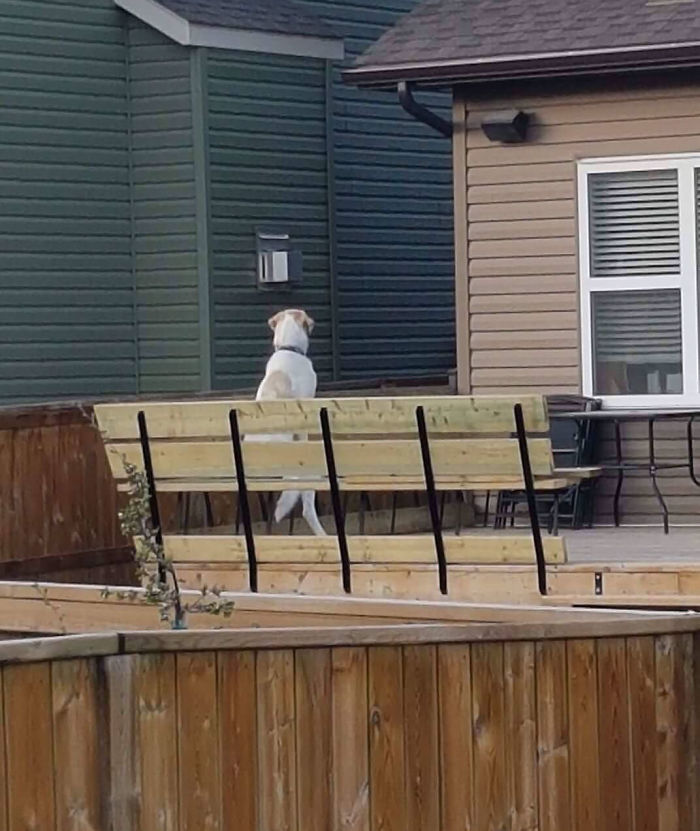 He looks very proper. You might almost mistake him for a real person! We bet this neighbor is always happy to see you, but he doesn't clean up after himself all that well.
Extending An Olive Branch
We have to applaud the way that this group extended an olive branch to their neighbors to apologize for the noise in advance. Leaving a note is nice but adding a gift to the note is even nicer.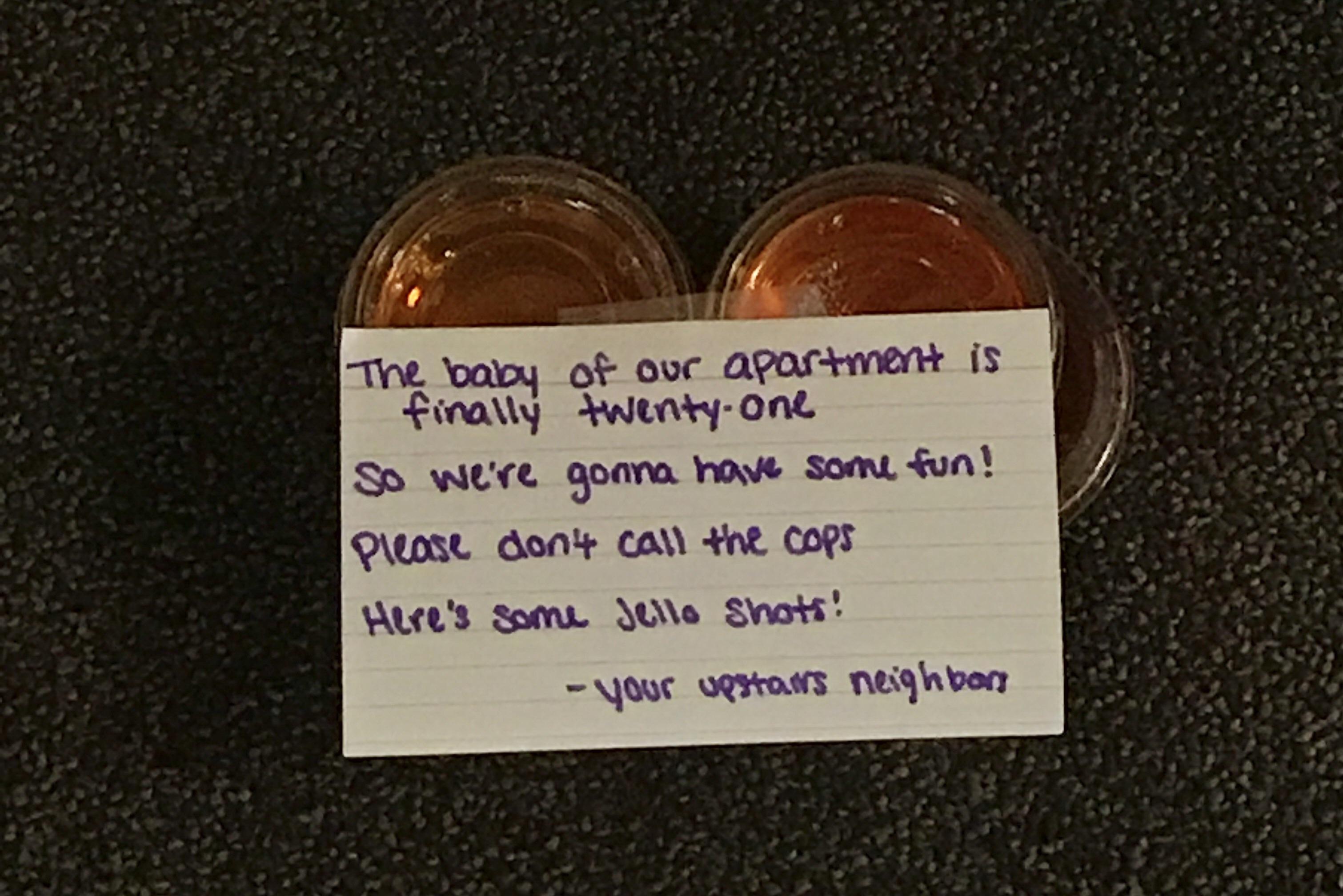 We hope that the neighbors managed to deal with the noise so that they could celebrate their friend's 21st birthday. Maybe they even joined in the festivities with those jello shots.
Rise and Shine, Neighbors
Oops, it looks like someone mistook their roof for their living room. How did he even get those chairs onto the roof, let alone himself? It looks like he had quite an eventful night judging by the lack of clothes and beer in hand.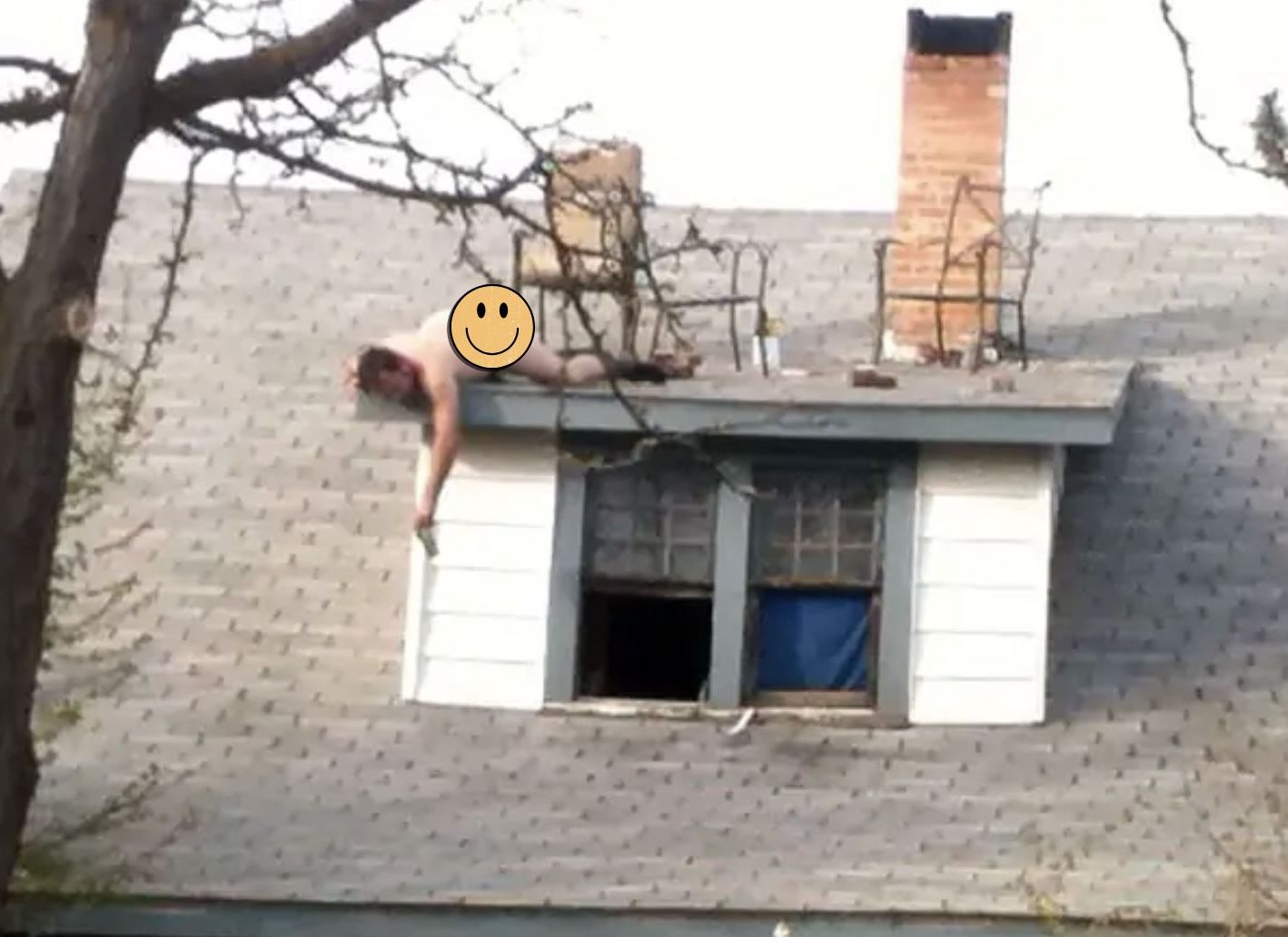 As far as wacky neighbors go, this might be the wackiest. He's living a little too close to the edge for comfort. Good luck to the neighbors living around this man. At least it's never boring!
It's A Mile Long Bottle Cap Rope, Of Course
In a long list of things you wouldn't expect to find in your neighbor's yard is a mile-long rope made completely of bottle caps. This person's neighbor keeps this impressive, yet an odd collection of bottle caps in his front yard.
Maybe this is purposeful because he wants to display the collection. He must drink a lot of beverages to get a rope this long. We wonder how long it will be by the time he moves out. Will he take the rope with him?
He's Not Potty Trained?
This is one of the more peculiar things this person has probably found on their front doorstep. Apparently, their neighbor has a turtle, but not just any turtle. This specific turtle happens to not be potty trained. Why else would he need to wear a diaper?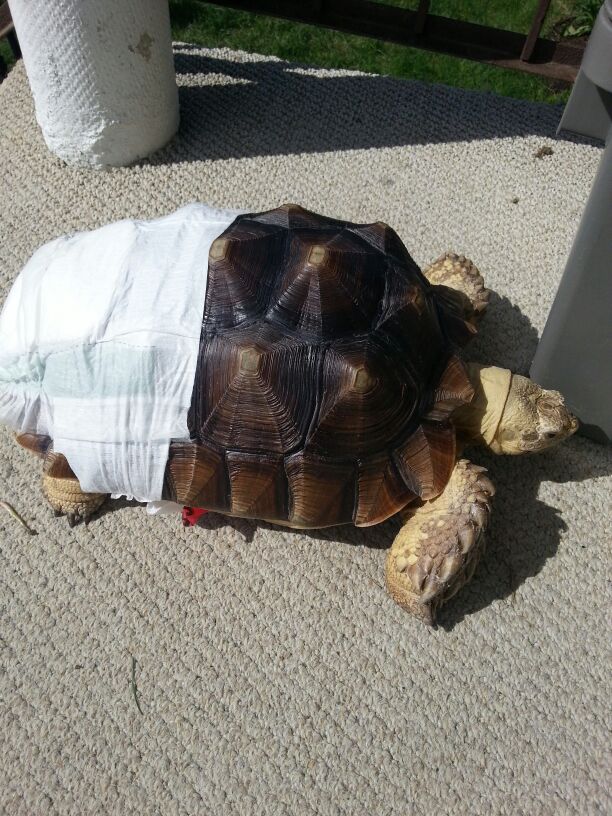 But don't turtles just handle their business outside? The diaper seems unnecessary. So many questions!
No Way To Make New Friends
Look closely at the passenger seat. At first, it appears a person is sitting there, but in all actuality, it is a Jason mask attached to the seat head. I guess this person likes to keep people away because this is no way to make new friends.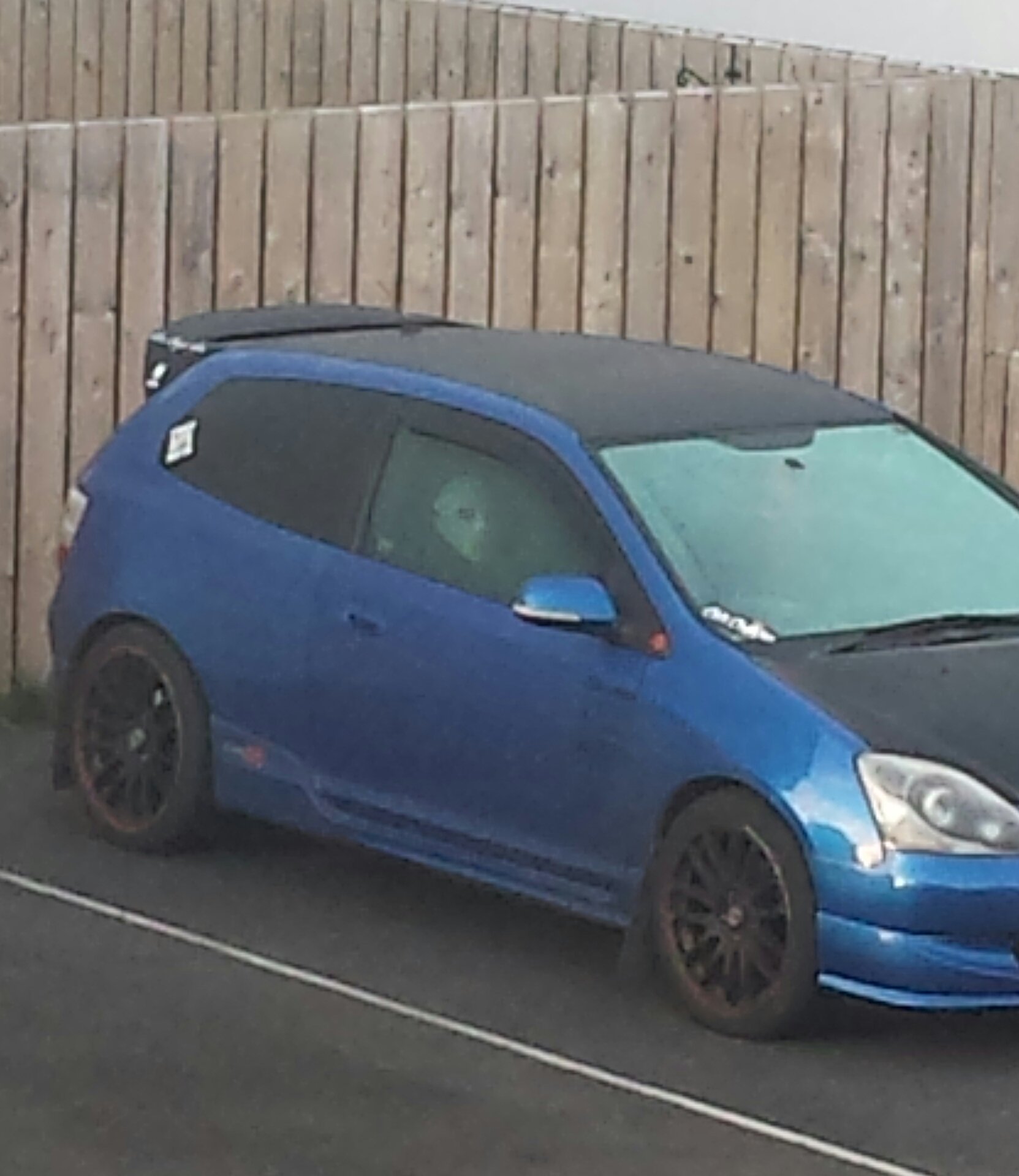 Whether he wants company in the passenger seat or he is just trying to keep people away, this must be a pretty peculiar person and a very interesting neighbor.