These Hilarious Airport Pickup Signs Captured On Camera Will Have You Laughing For Days
Being away for a long time away from family and friends can be difficult. Arriving at the airport after hours of a flight can be emotional and even exhausting. But, the journey would be all worth it, especially when your significant other or loved one surprises you on the other side.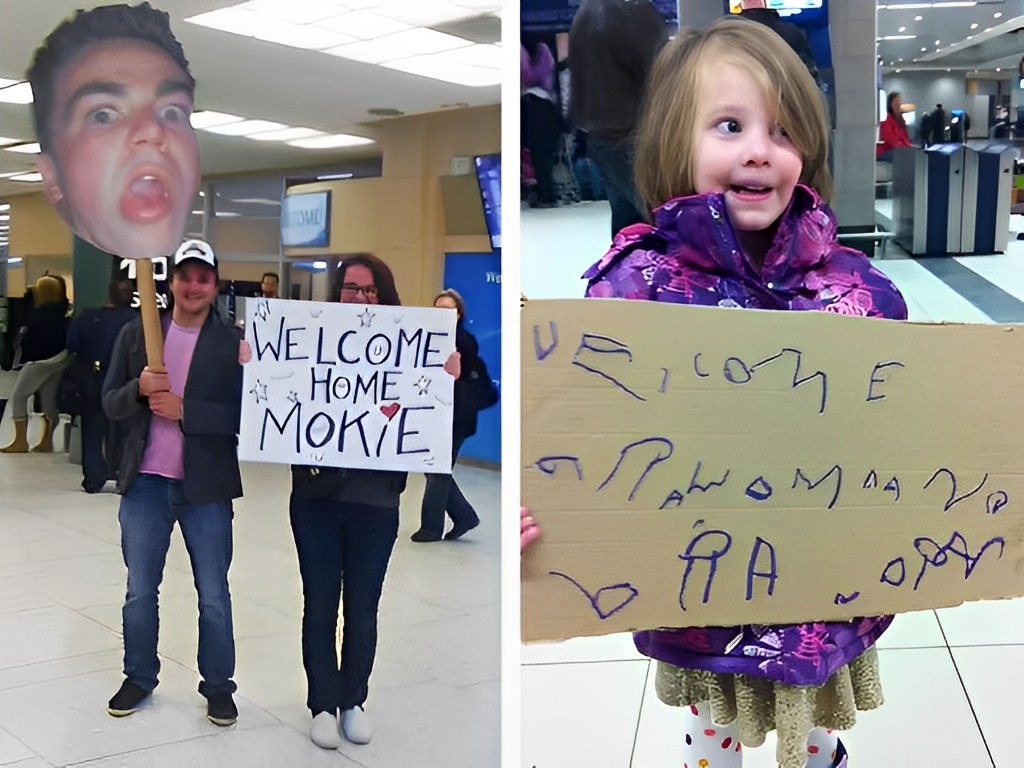 The sensation of airports can be overwhelming and anxiety-inducing, yet knowing that you are back in the familiar comfort of home can be a sweet and relieving feeling. That being said, here are some of the most hilarious pickup signs at airports that will surely put a smile on your face. 
Never Liked That Couch Anyway
There's a good reason why dogs are known as a man's best friend. These furry pals love us unconditionally and are there no matter what. So, we often let our dogs get away with things because we adore them immensely.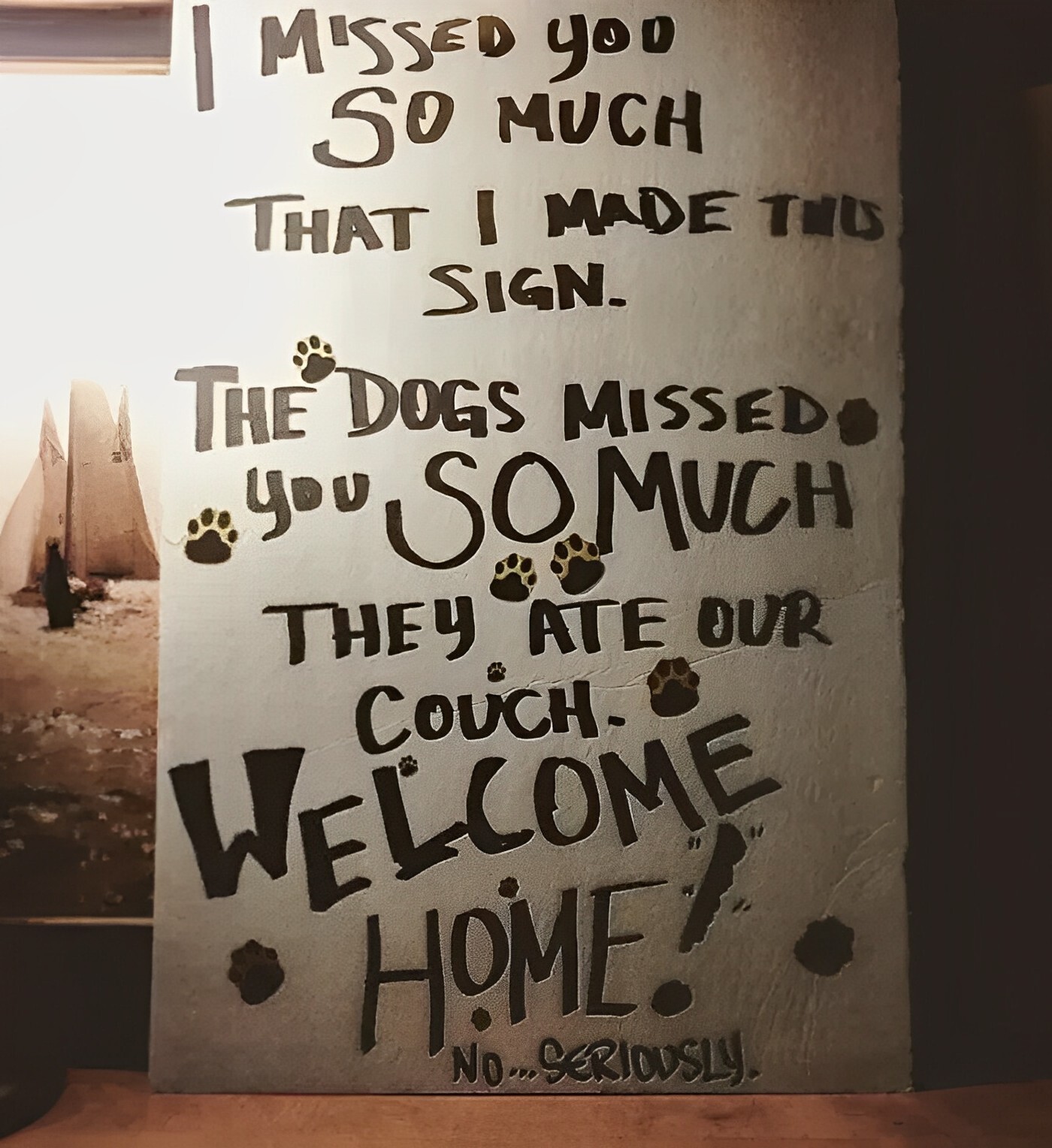 Dogs go through that period of time where they let themselves go anywhere in the house and you have to be careful of where you step. Or, in this case, they tear up your couch! Despite the dog shenanigans, it's good to be back home. 
It's 5 O'Clock…At The Airport!
Wow, the grandpa in this photo is surely a big romantic. He's definitely a keeper because he puts 100% of himself into all the surprises he plans for his sweetheart.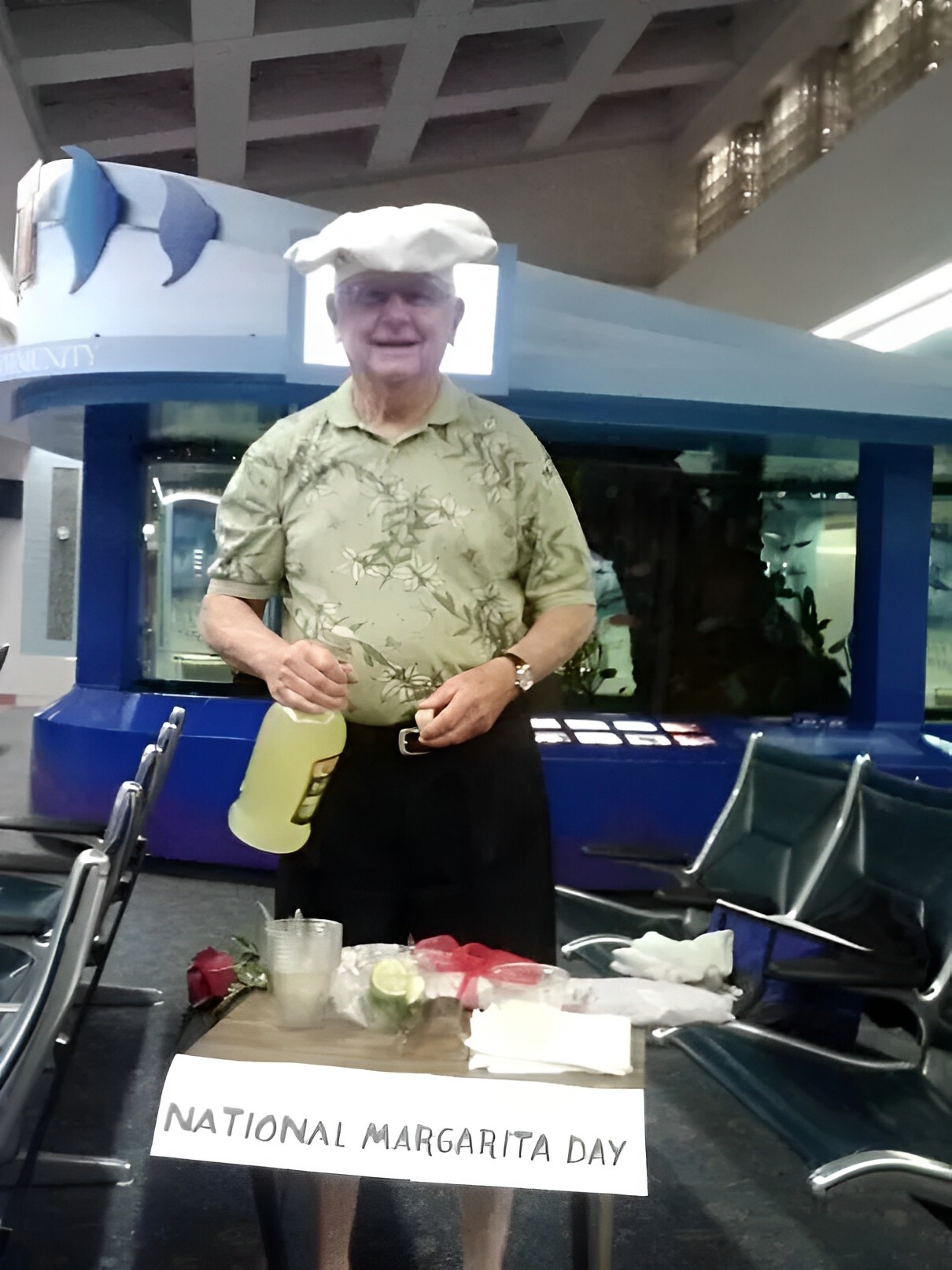 This special guy practically built a portable bar at the airport and attached a sign to it that reads "National Margarita Day." He really did make sure that his wife's arrival would be unforgettable and we hope the same happens for us one day. What a match made in heaven that would be! 
With F.R.I.E.N.D.S Like These
Only diehard fans of the most famous and beloved sitcom of all time will understand this reference. Even if you don't get the quirky humor behind the sign, it's not the end of the world. We promise.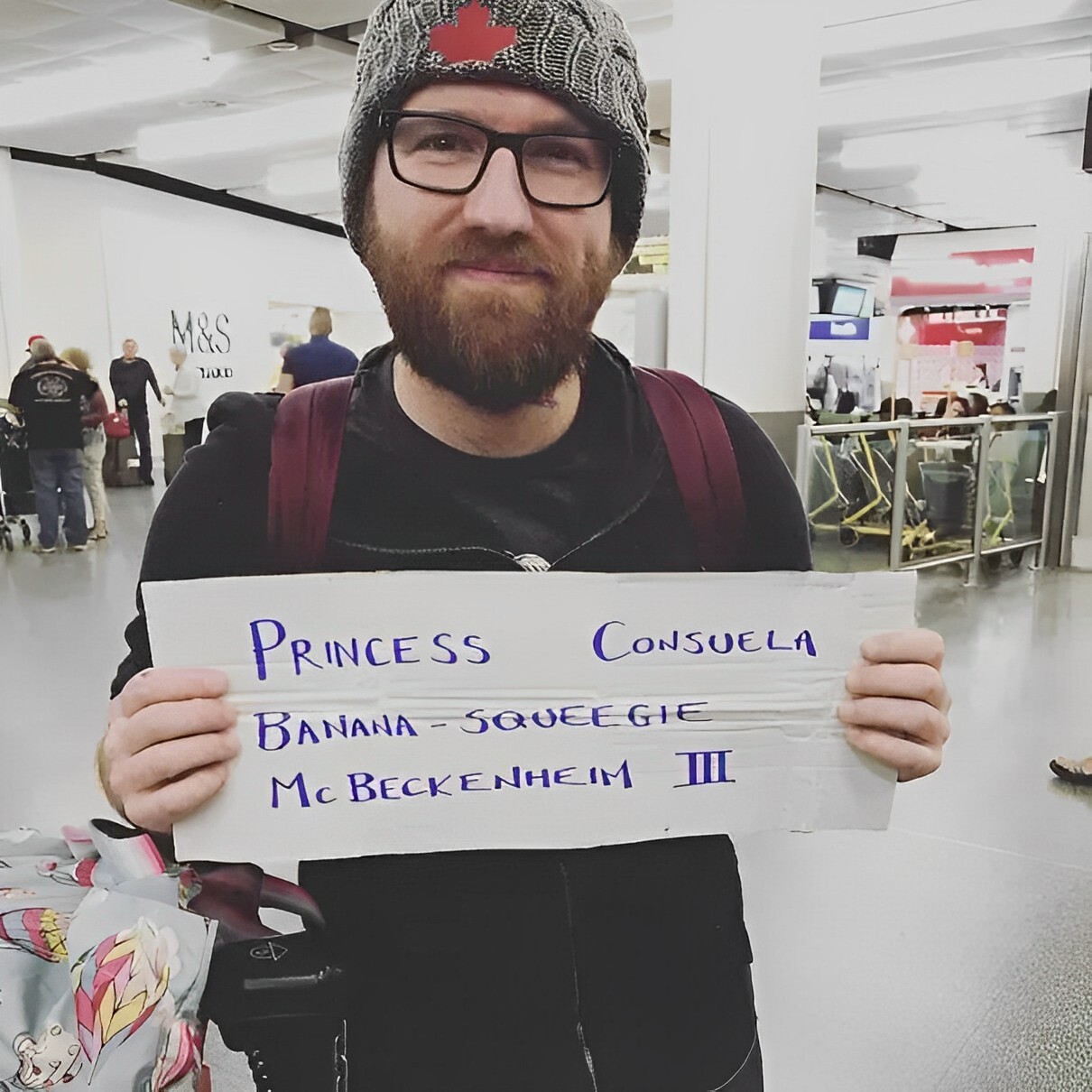 For those who haven't watched Friends, this reference will go over your head. Hey, that's not our fault. The guy holding the sign knows his pop culture stuff and his princess was probably thrilled to see him. Now, all you need to do is watch reruns and you'll be all set.
Congratulations…Oh, Wait
The woman in this photo probably didn't get the memo that some things are too personal to be shared in public. Well, there wasn't anybody visibly around her and it's the thought that counts, right?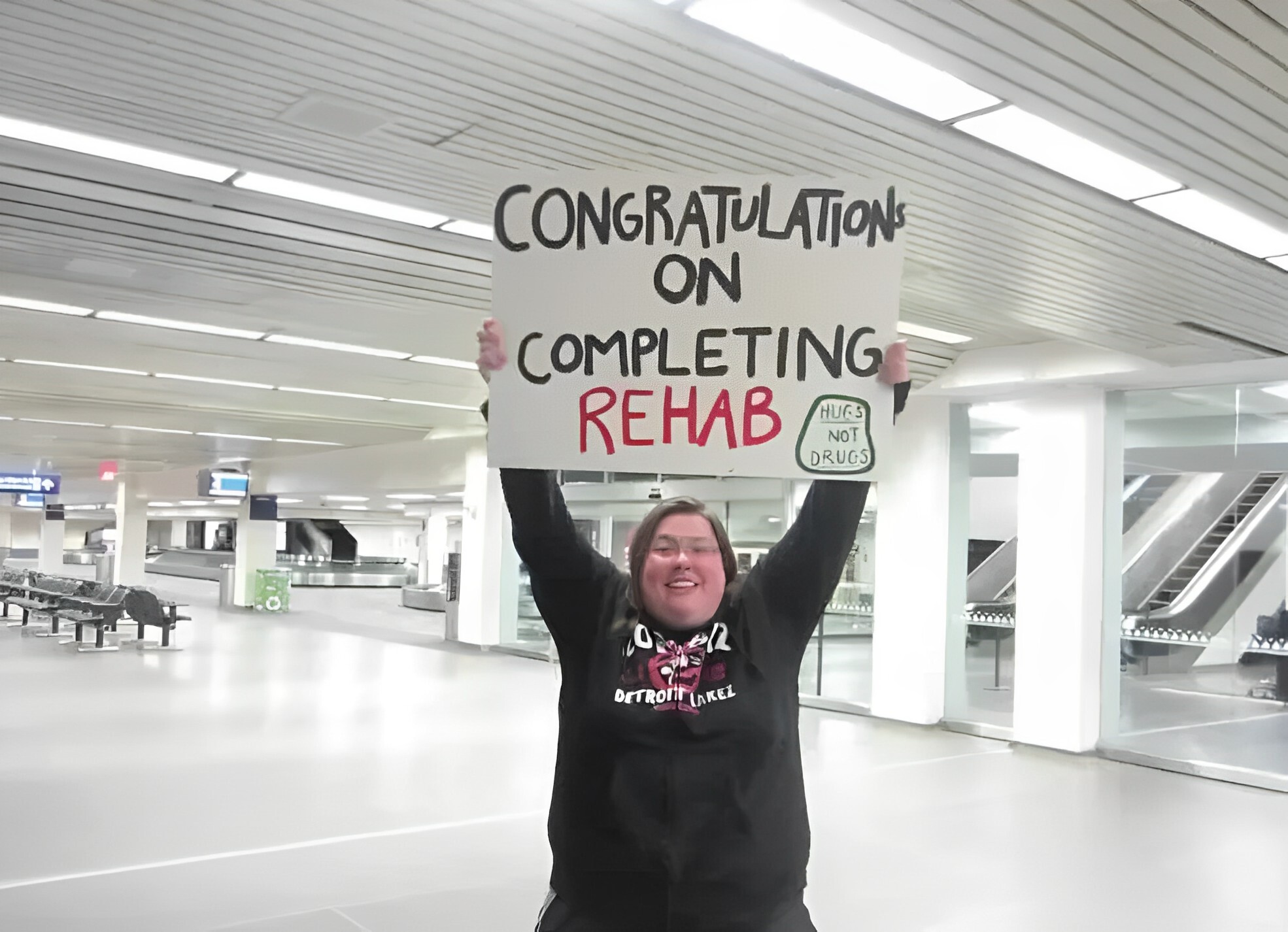 She outed her friend by writing in big, capital letters: "Congratulations on completing rehab." While the sentiment is admired, it's a bit embarrassing. Maybe that woman shouldn't be trusted with such private information, but at least she was able to give her friend a ride home. 
Just The Plain And Simple Truth
Luckily, the guy holding the sign is smiling and seems friendly enough. We wonder what the man who got off the plane was thinking at that very moment since he was most likely expecting to see his girlfriend waiting for him instead of her brother.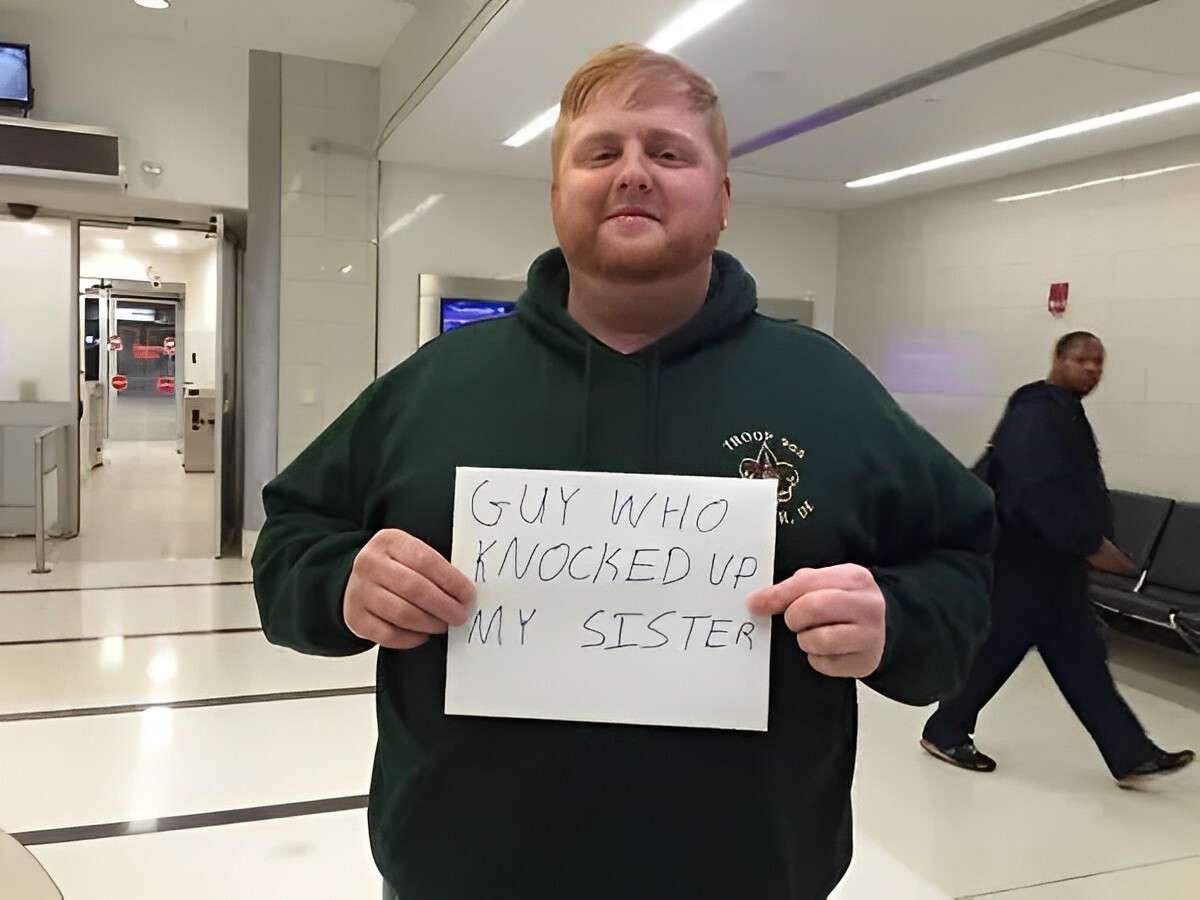 The moment the guy saw his girlfriend's brother holding a seemingly threatening sign, he probably thought about running away. If he was going to escape a dreadful conversation, hopefully, the coast was clear! 
The Smile That Says It All
The heart of this little girl's mom undoubtedly melted the moment she saw her daughter waiting for her. The girl wanted nothing more than to warmly welcome her mom with a sign that she made especially for her mom's long-awaited arrival.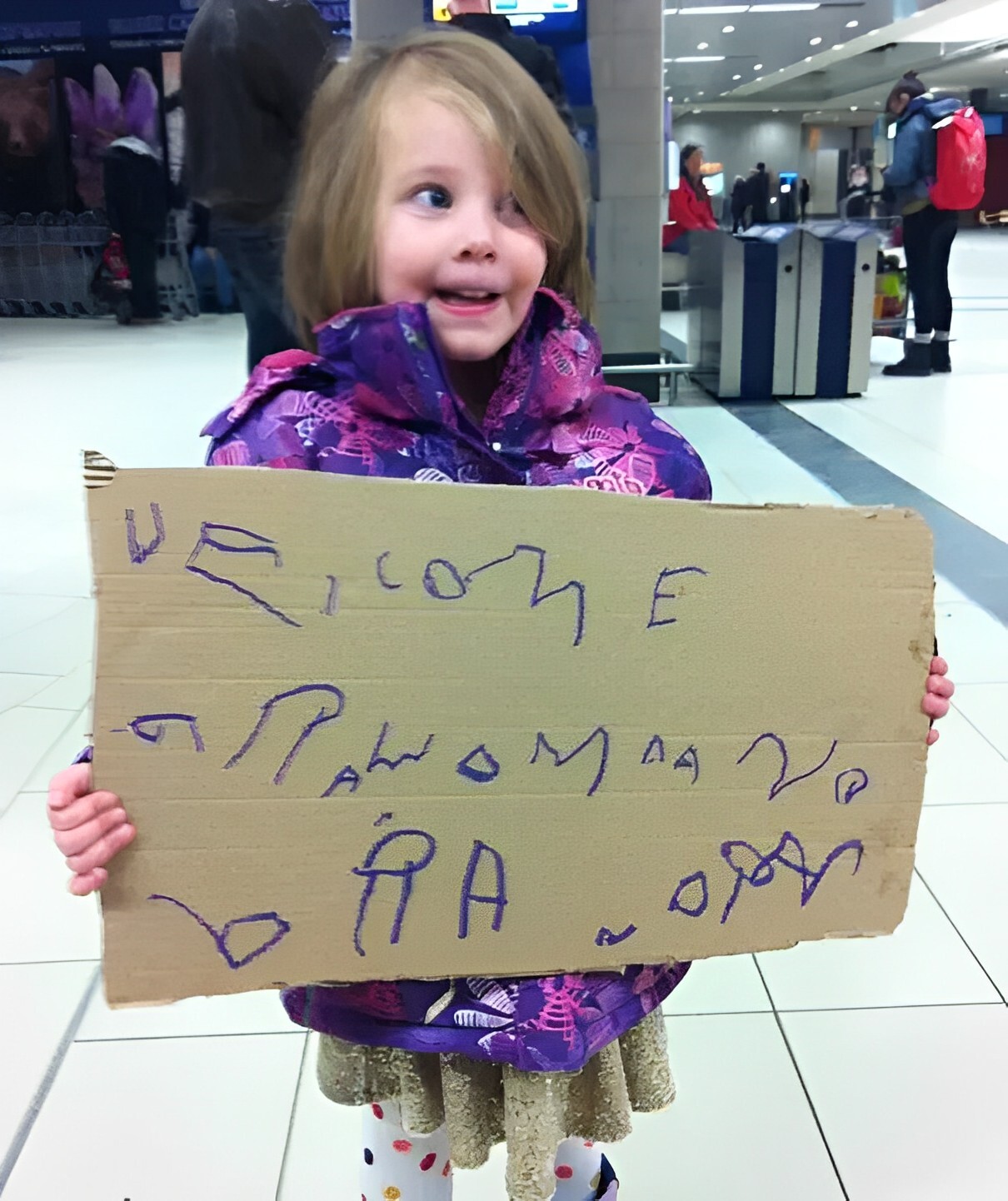 It's the thought that always counts. This little girl had the best of intentions with the sign she made, even though it was unreadable. We can only imagine how delighted her mother was to see her daughter after being apart. 
Cereal Killer
In every household, there should be a rule that from a specific age, kids should leave the house. Obviously, the adult son of the parents he was picking up, didn't get the memo. He clearly overstayed his visit.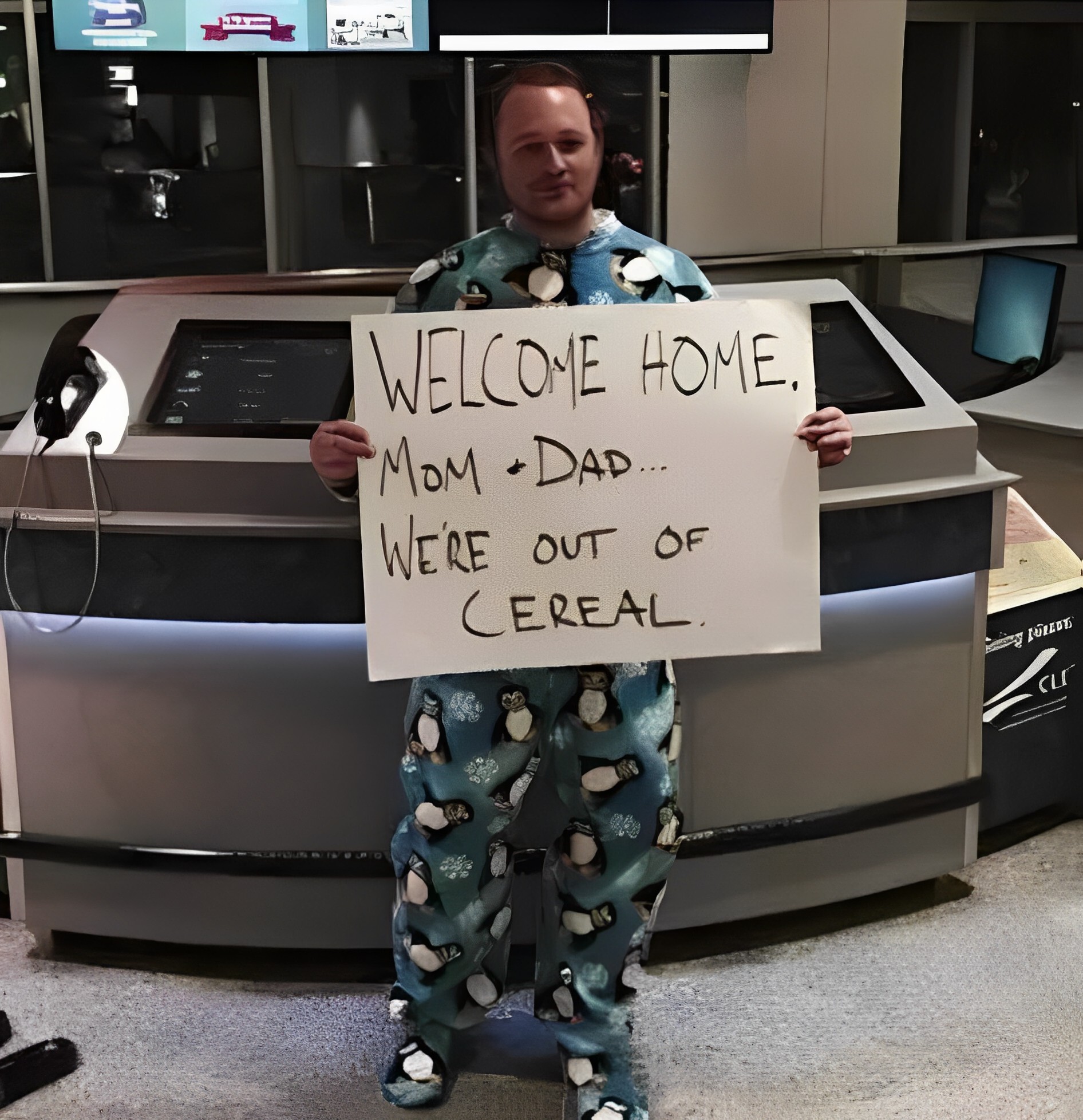 This is probably the last thing his parents imagined would happen: their grown-up son sporting a onesie. And at the airport no less! We wonder what happened as soon as they got home, and if they forced their son to go get cereal at the store. 
Love Is Gender Blind
It's always difficult to think of the right thing to say when confronting a sensitive subject matter. In this specific case, it's centered on going under the knife for a gender transformation.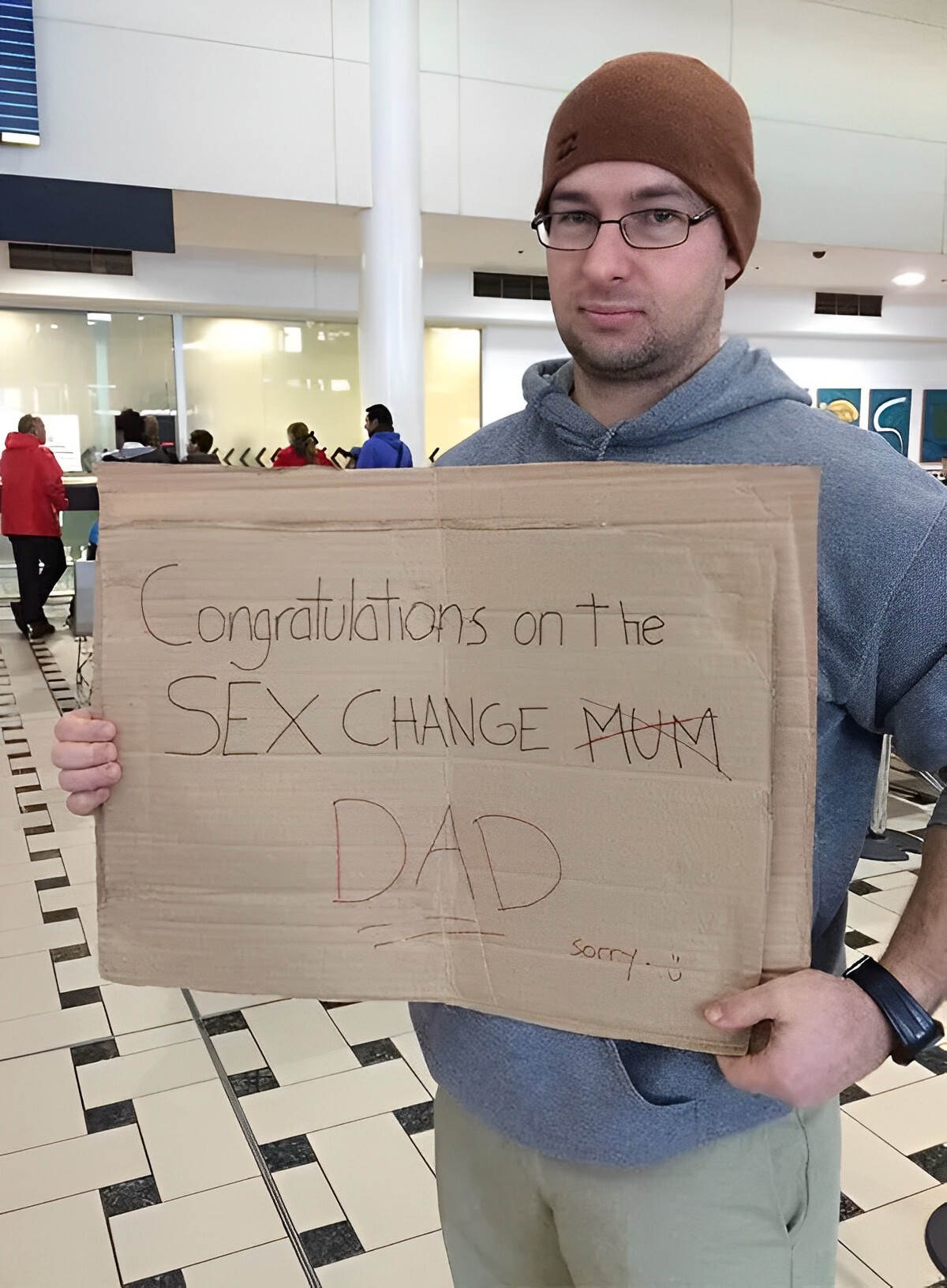 Going through such a major and life-changing decision is hard enough, especially when it's one that may not be understood by many people. When you're trying to figure out who you are it's best to stick to what you believe feels good for you and nobody else. Others will simply have to get used to it!
Wanted…For Christmas
No matter what some might think, Christmas is definitely one of the most magical times of the year. It's meant to spend quality time with your loved ones and cherish every moment together.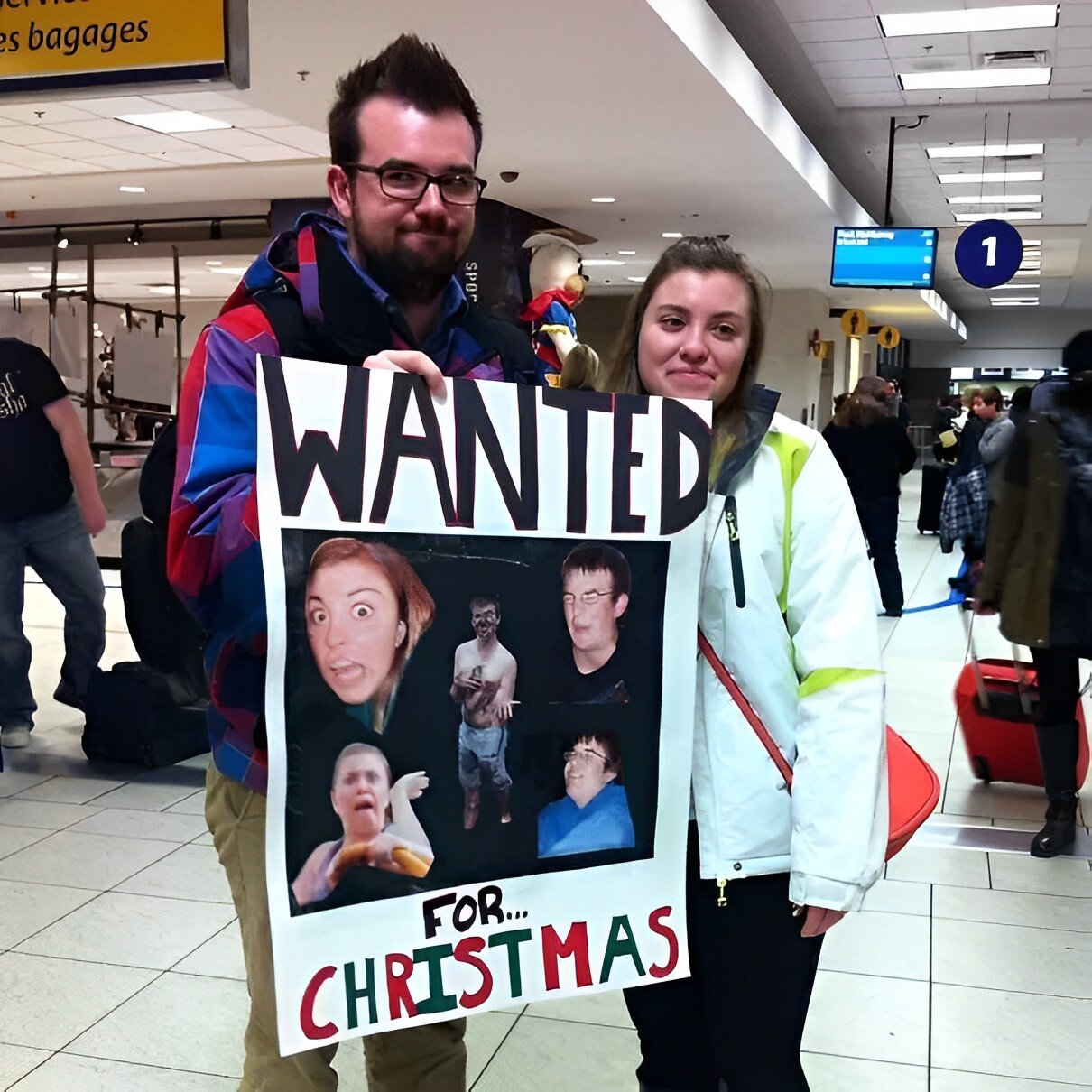 Every year, kids anticipate all the wonderful presents they're going to get from Santa. For adults, the special holiday is spent preparing a big and festive feast, as well as showing your friends and family how much you appreciate them. Clearly, the duo in this photo missed each other very much. We're so happy they were able to reunite!
I Hate To Love You
Love is one of those versatile emotions that can be expressed in a variety of ways. As they say, absence makes the heart grow fonder. Dealing with the pain of somebody you love leaving is extremely hard and can be too much to bear at times. Sometimes, people don't want to show that vulnerable side of themselves.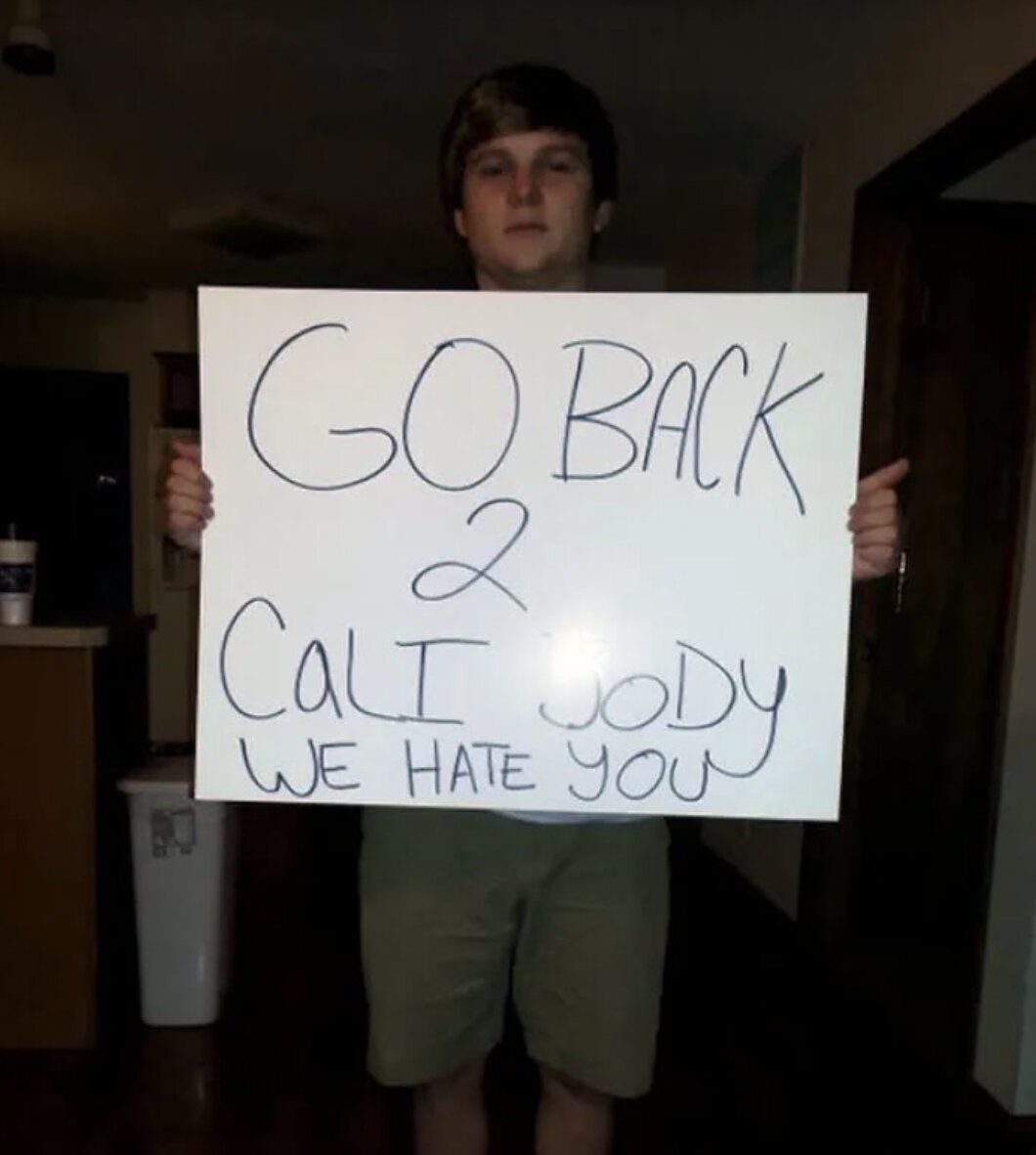 In this case, the guy holding the sign expressed his love by acting like he didn't care! Maybe that went a bit too far, but we get the message. 
More Than Friends
It's likely that Tom had no clue while he was getting his belongings from the plane that he would see his friend waiting with this sign. His friend waited for him with a big sign that surely embarrassed him.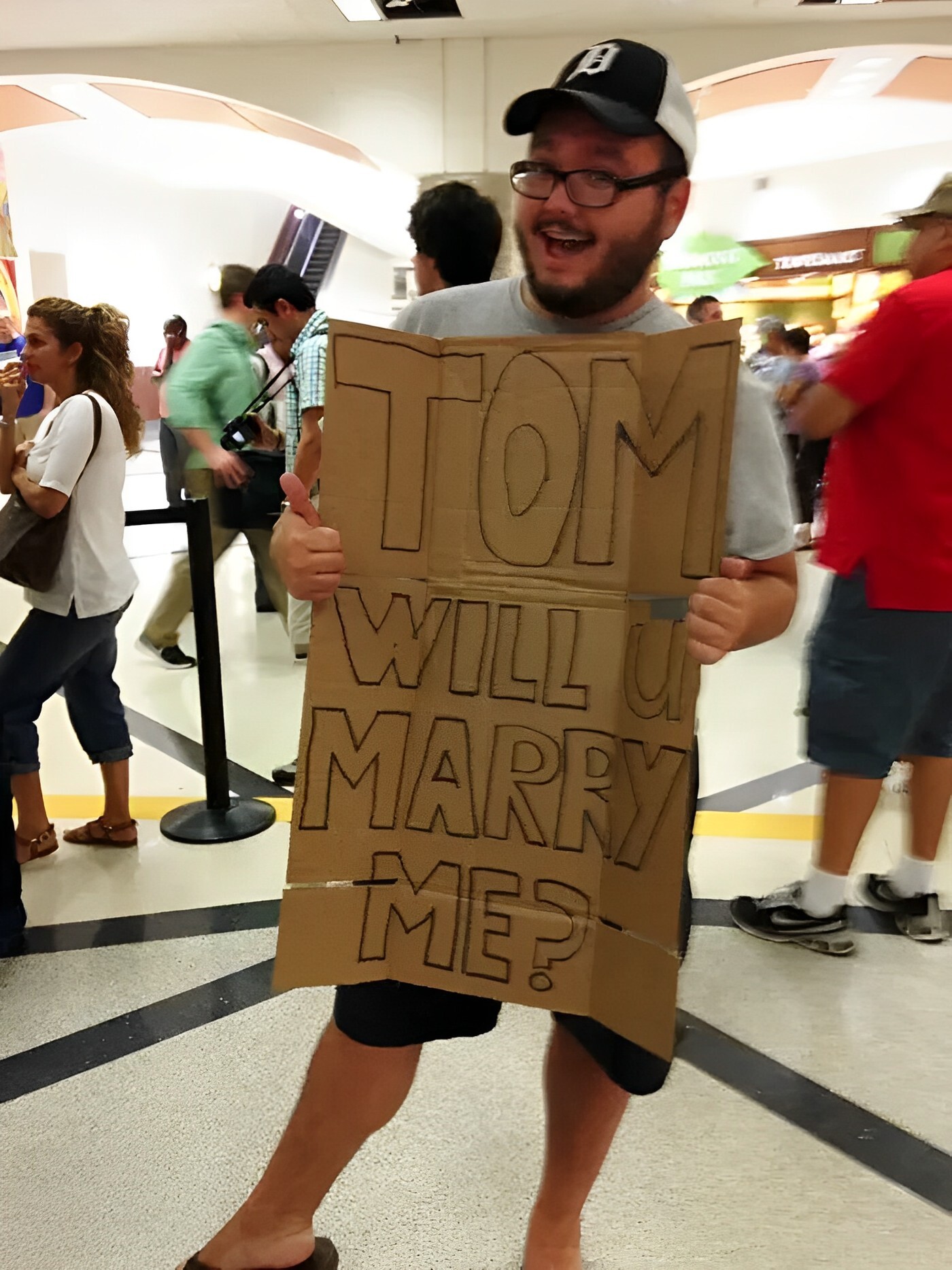 This wasn't an endearing marriage proposal to Tom, just a funny and harmless joke. He didn't want to spend eternity with his best friend but thought it would add some humor to the experience. Perhaps Tom gets back at him at some point? Only time will tell. 
He Knows What He Wants
To make himself appear more mysterious, the guy in this photo put on some shades. He really looks like a character straight out of a Men In Black movie.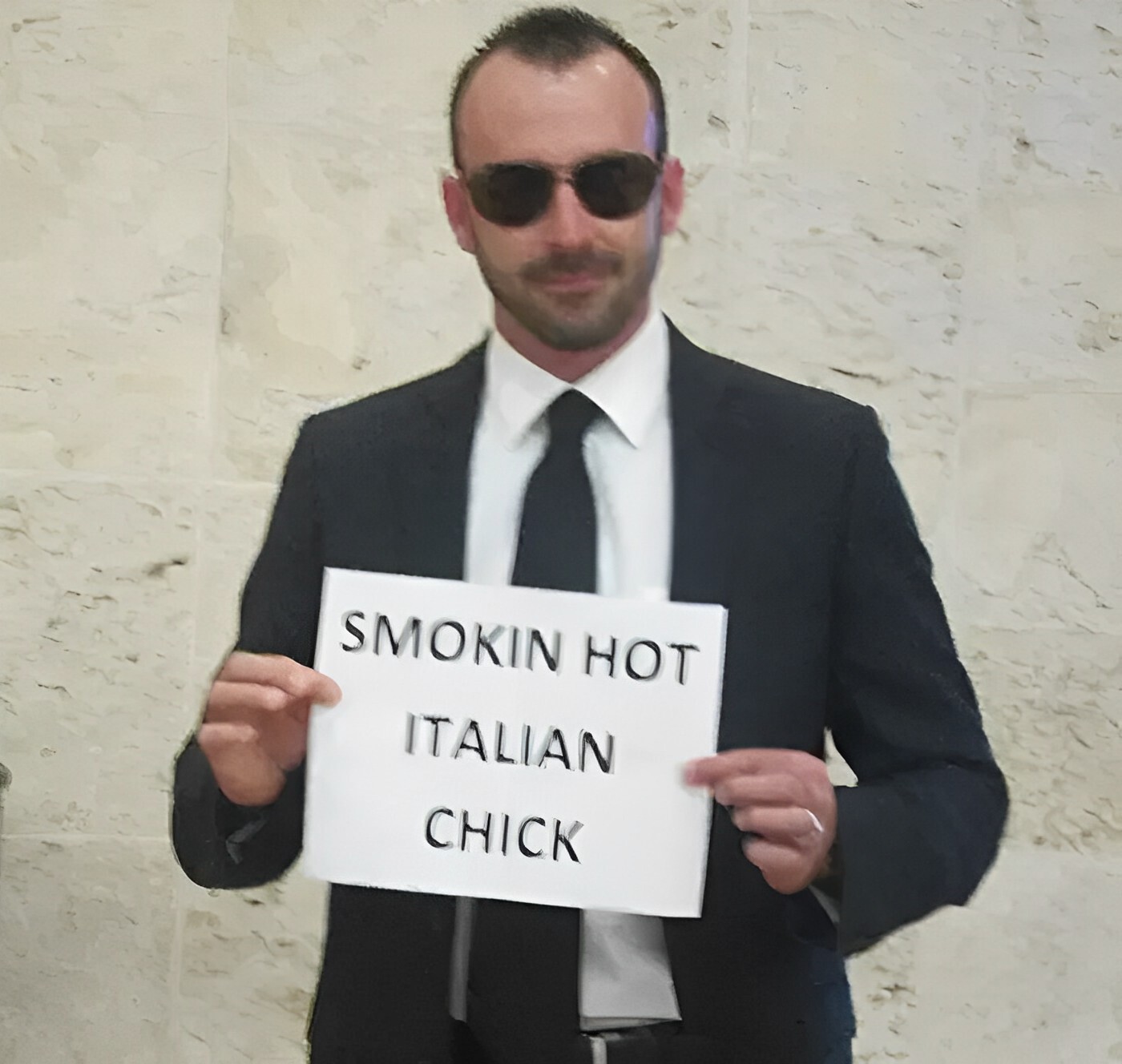 Based on the stunt this guy pulled, we guess it's probably not the first time he's done this! It's certainly a unique idea and it's one that maybe he's succeeded with the other times. Was he surprising his wife? It wouldn't be a shock if she didn't recognize him at first. 
Adopt, Don't Shop
Were you also surprised by the fact that these three are related? They don't look anything like one another! One thing is for certain though: they all have mischievous minds. They created a sweet homemade poster to welcome their parents home.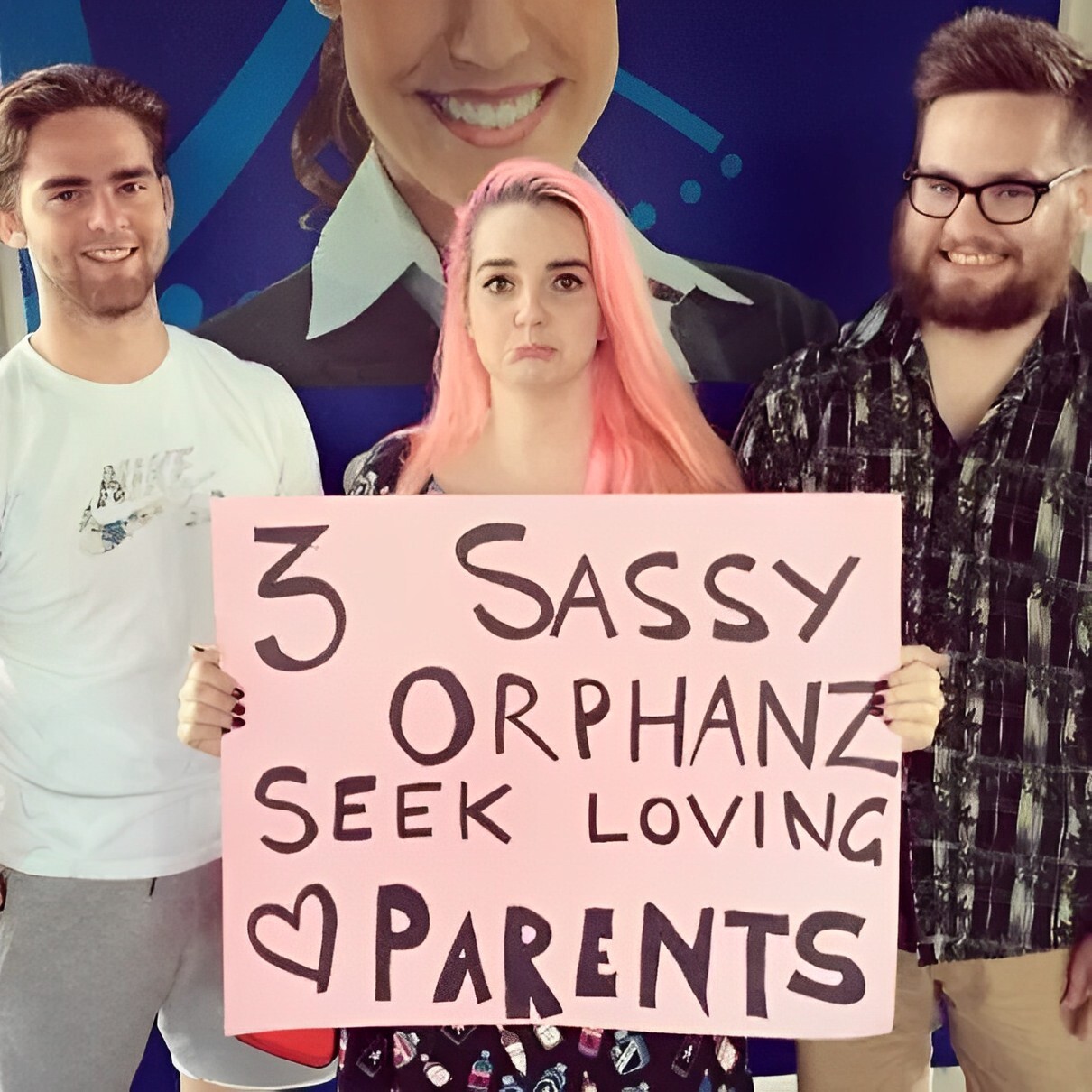 The girl in the middle with pink hair sports a pouty look, while the guys have big smiles. Surely, the parents of this sassy bunch must have been beyond thrilled and excited to reconnect after spending time apart. 
A Not-So-Subtle Welcome
Some people are attention seekers and are always in need of attention, while others are lowkey and private. Needless to say, most people probably don't want their personal business on display in front of a bunch of strangers at an airport.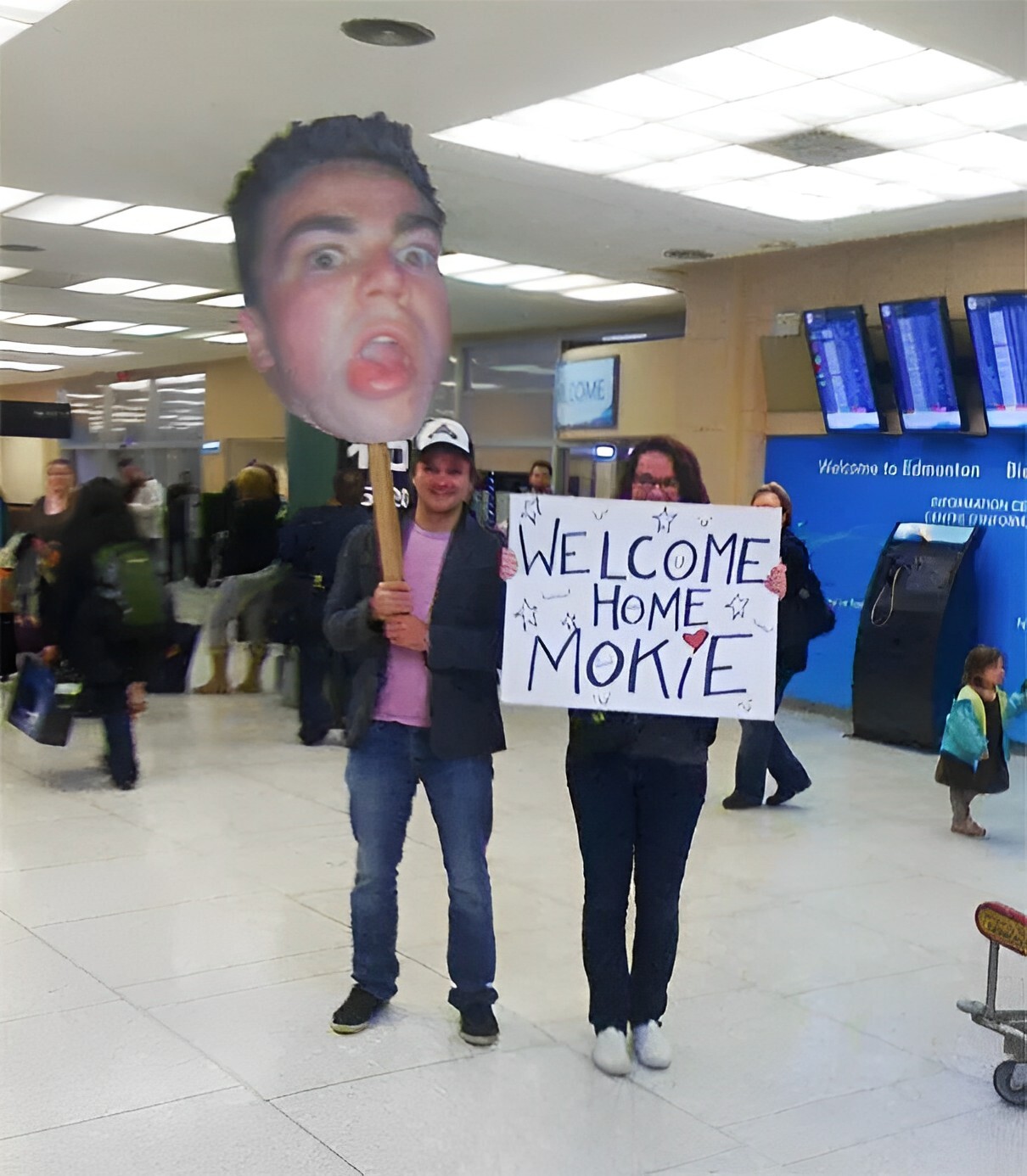 When Mokie arrived and saw his friends holding a big sign, we can't help but wonder what was going through his mind. Was he elated or severely embarrassed? Having a large and rather unflattering picture of your face printed out is probably something that you probably don't want to see in a public setting. 
It's All For You
You might be wondering what Imodium is and it's not what you think most likely. It's a medication used to treat those with irregular bowel movements. Travelers commonly ingest it to help them with gut movement.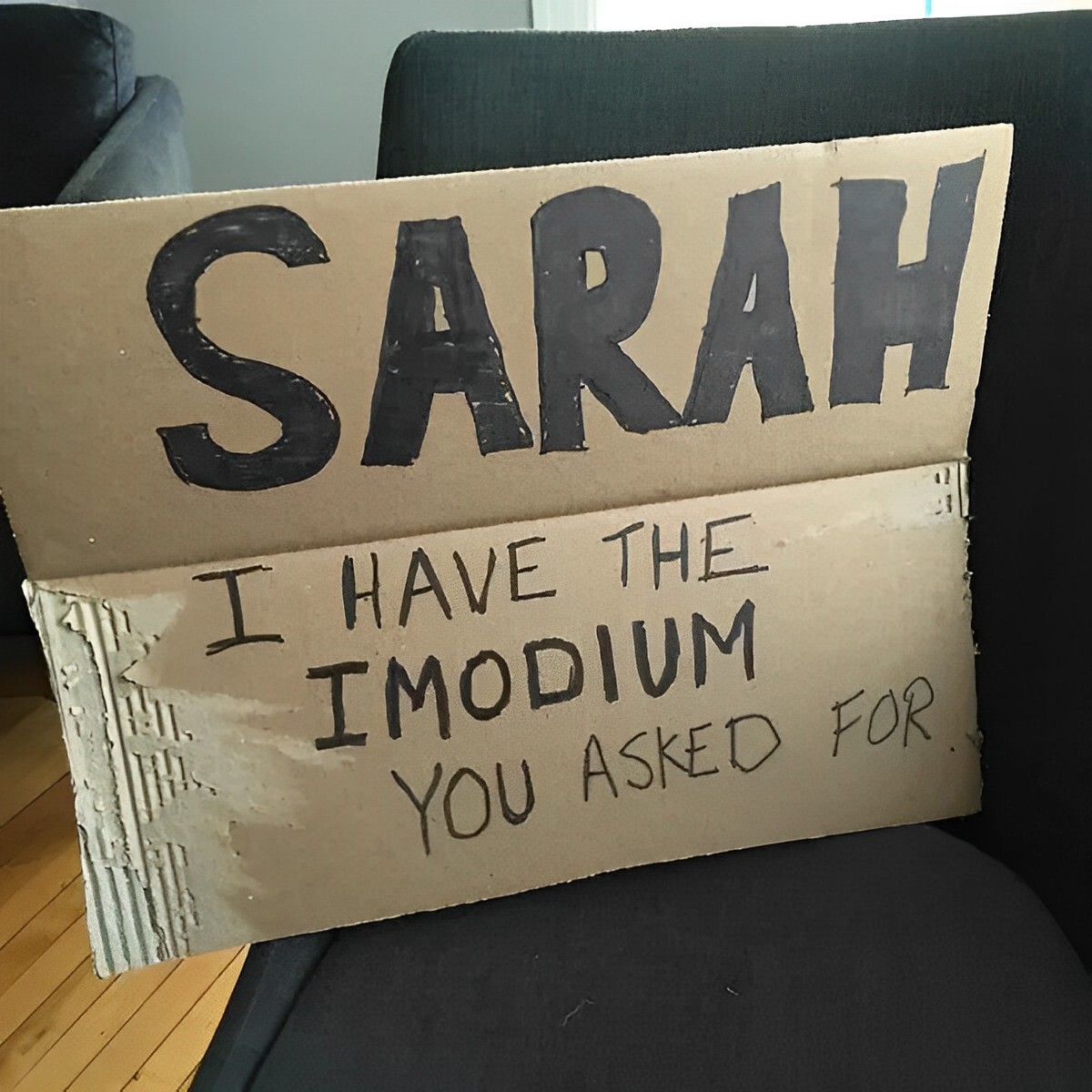 Imodium decreases the number of bowel movements one person has in a day. So, the fact that this person held this sign up in an airport must have turned Sarah beet red in the face. All she wanted was to have peace of mind when she arrived, but then she had to deal with this shame. 
Putting The "U" In Cute
We all know that honesty is the best policy, so you may as well come up with witty and pun-filled signs. However, this was the opposite of what this person did because they said exactly what was on their mind.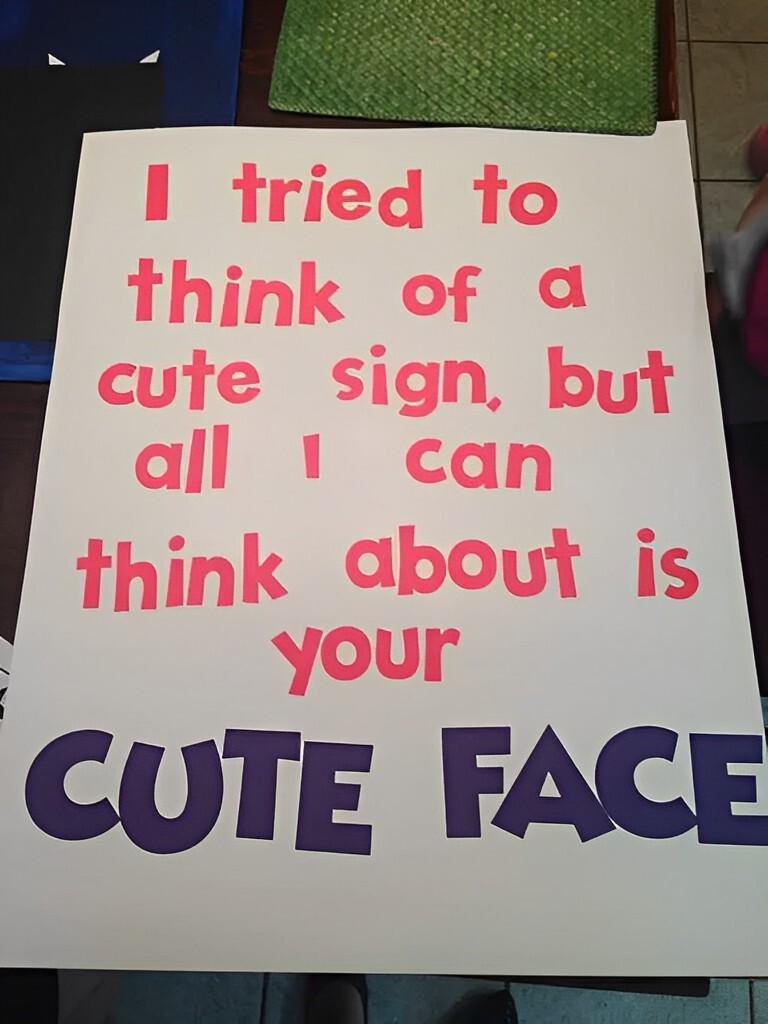 While we would probably appreciate the sentiment, it wouldn't be ideal for that sign to be displayed for everybody to see. But, having a sign that was well thought out and rhymes or has a hidden message, it appears that the person put a lot of effort into it. The result is quite adorable! 
Fatherhood Isn't Easy
Being responsible for taking care of kids is a big deal, let alone taking care of somebody else's. This man in the photo obviously was wrestling with the idea of raising the child as his own.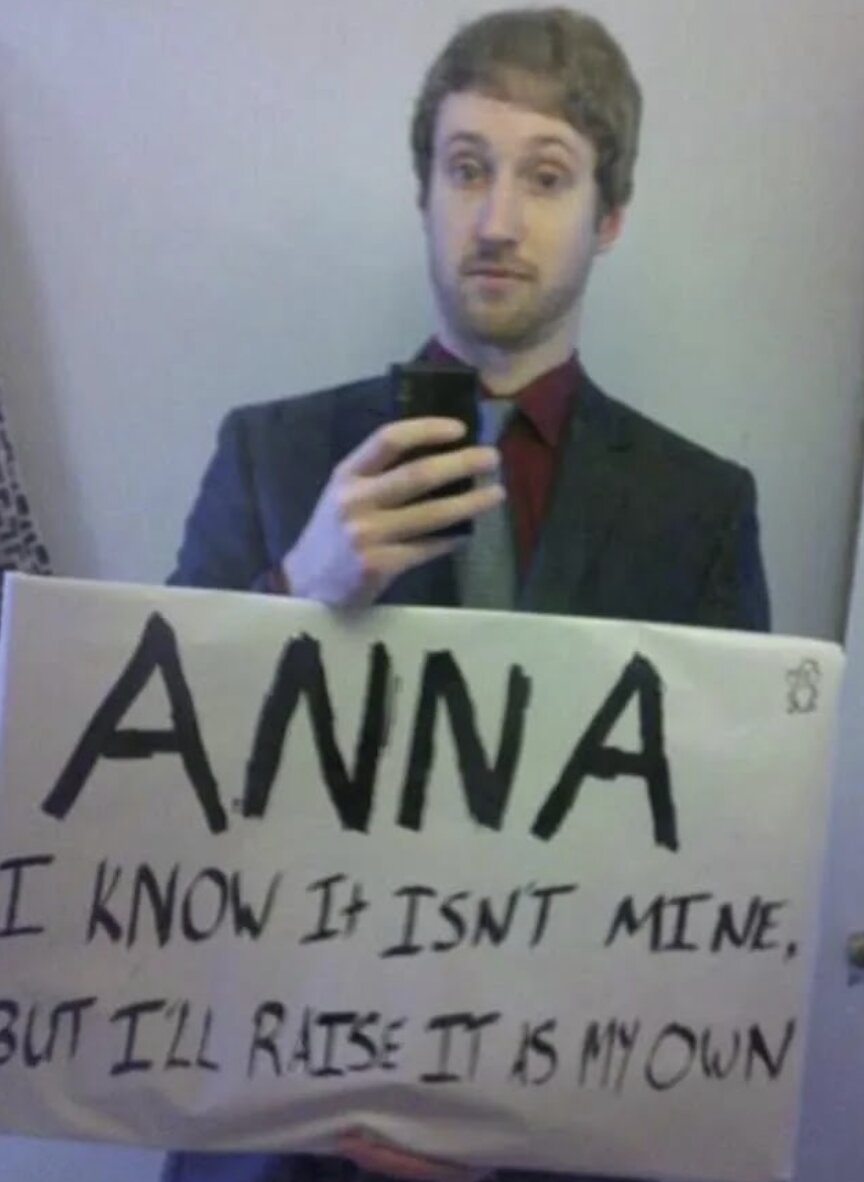 Anna has been away on a business trip and she was hoping that he would have his mind made up when she got back. She had no idea if he was going to commit or not. Not only did he pick her up from the airport, but he shared with her that he will raise it as his own. Aw, how sweet!
Rapid Weight Loss
The army wife posing with her child was concerned that her husband wouldn't know who she is after her pregnancy. Going through pregnancy is a massive shift for one's body, so it's understandable why she thought that.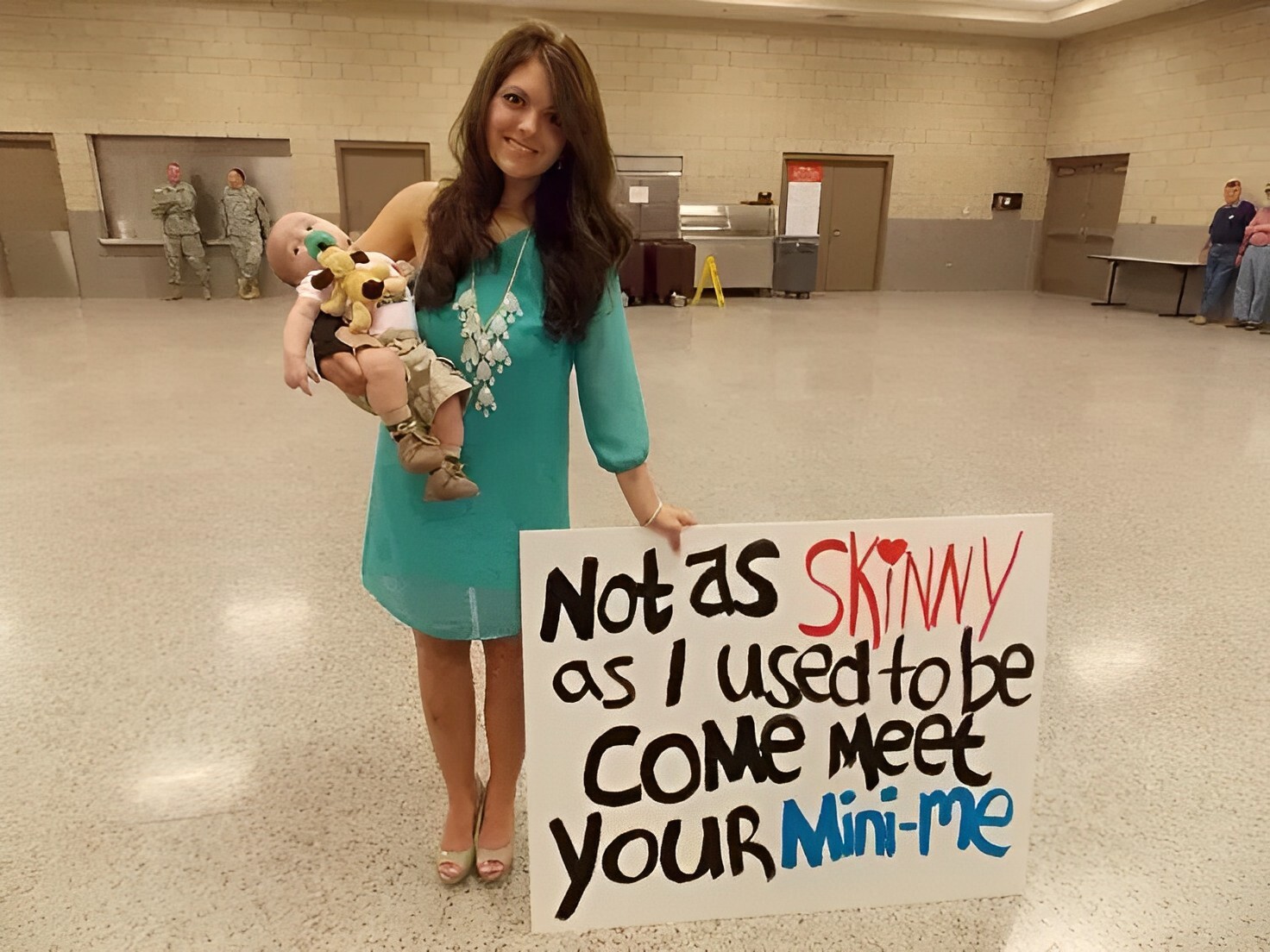 After fighting for freedom and being away in the desert for a long time, the husband probably wouldn't even give a second thought to her appearance. He was just happy to be home. Maybe she's just fishing for compliments from her man, but that's not important. There's a mini-me in the picture! 
Clan Matters
Douglas must be the only one in his family who cares enough to use the word "clan" in his sign. The McGregor clan has Scottish and Irish roots, but Douglas is the most excited about his ancestry. He can talk for hours about kilts and the family crest.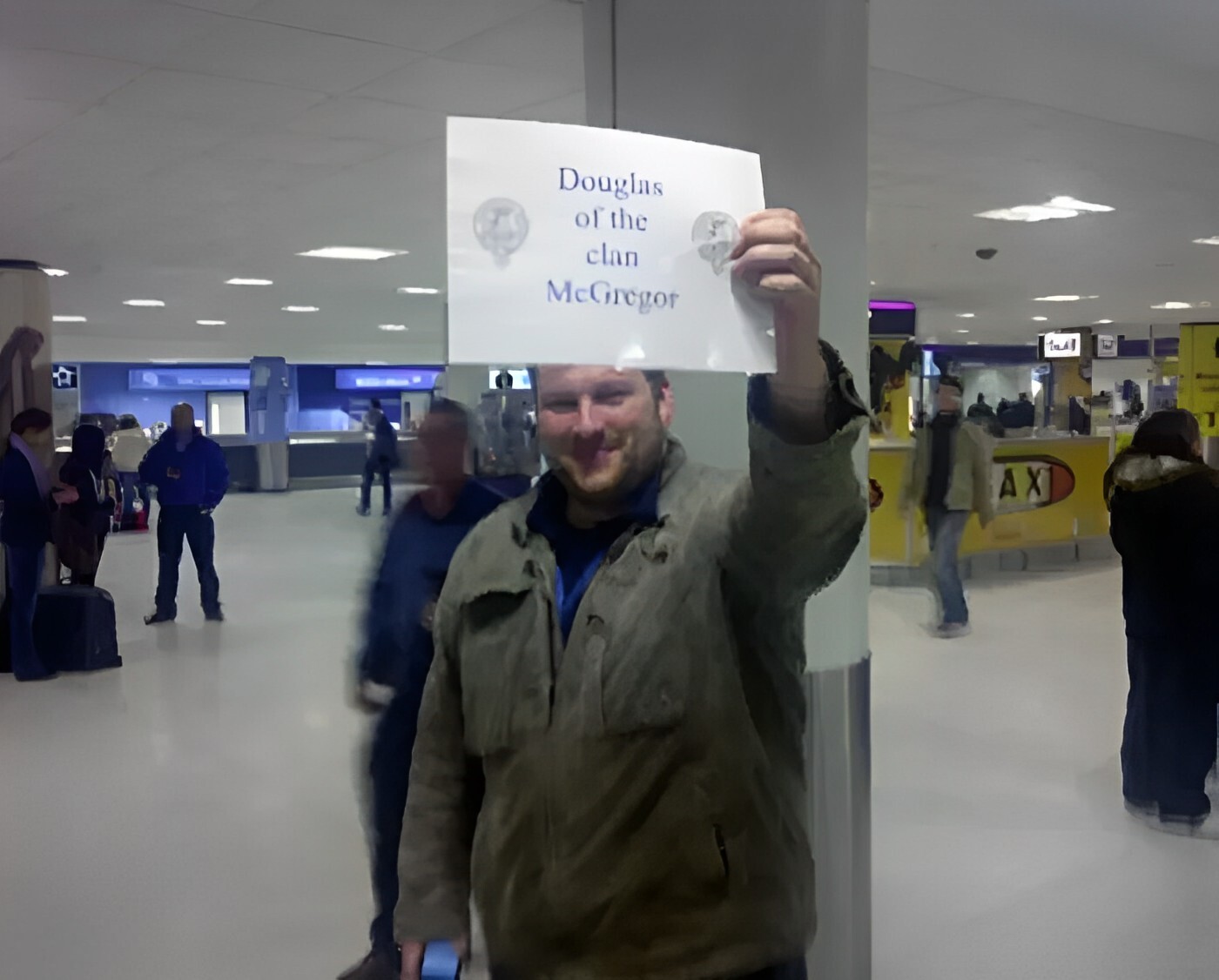 Obviously, his family must admire his passion about their history, but they probably also poke fun at how nerdy he gets about genealogy. When he picked them up from the airport, they surely got a crack out of his sign! 
Talk About Being Blunt
When you are referring to those you love, you may get very inspired and get those creative juices flowing. This is what happened with the sign this girl made which proved how happy she was to see whomever she was picking up.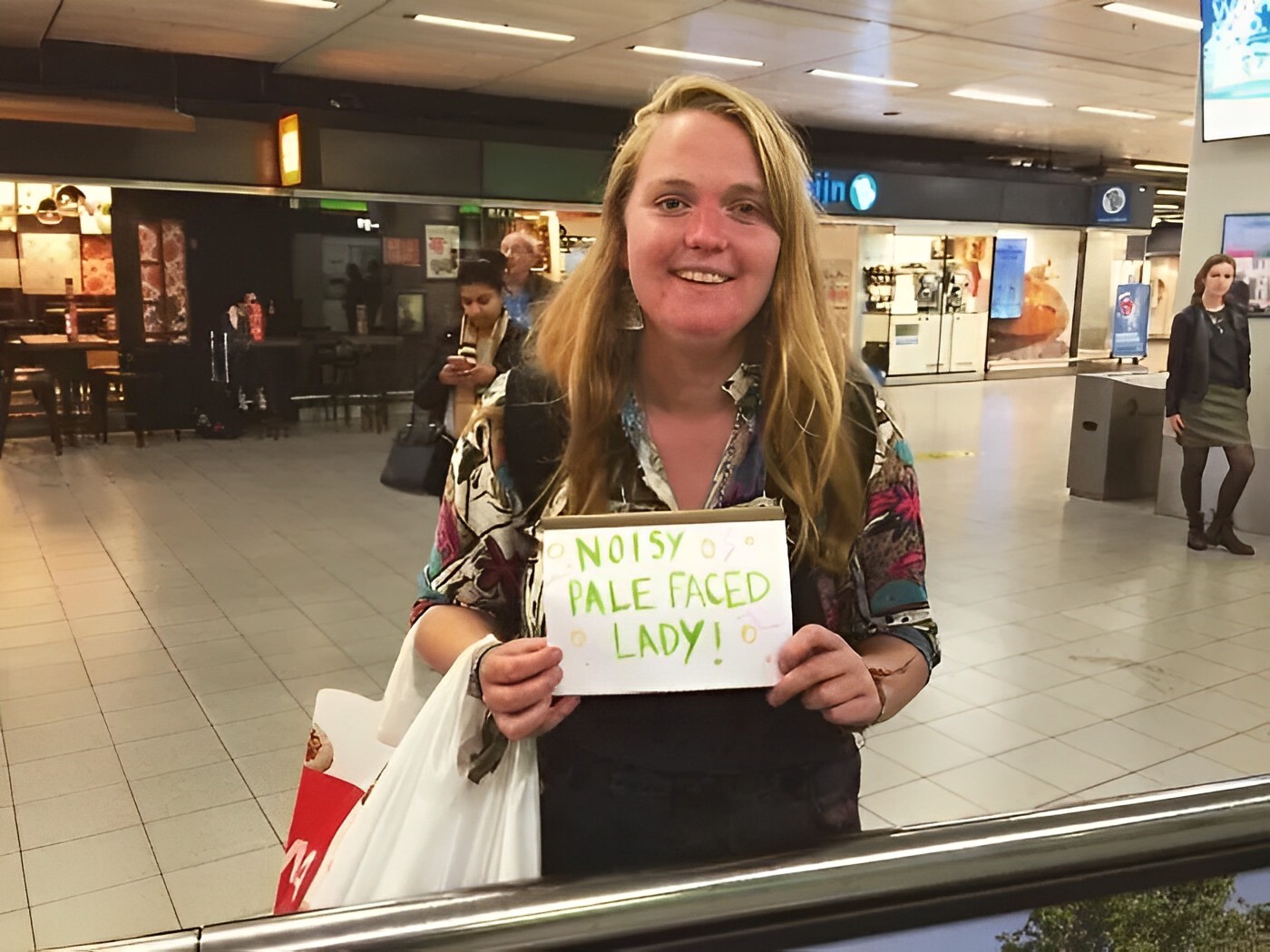 People portray their love differently as we have seen earlier, so calling somebody a "noisy, pale-faced lady" must come from a wholesome place. It may even be the nickname or an inside joke with her best friend. We must know! 
This Isn't A Grocery Store
Perhaps the woman in this photo needs to get her vision checked. Did she really mean to put "hot gravy" on the sign? Maybe it's also a nickname or inside joke, but certainly not for the name of the firm's biggest and most important client who was traveling overseas.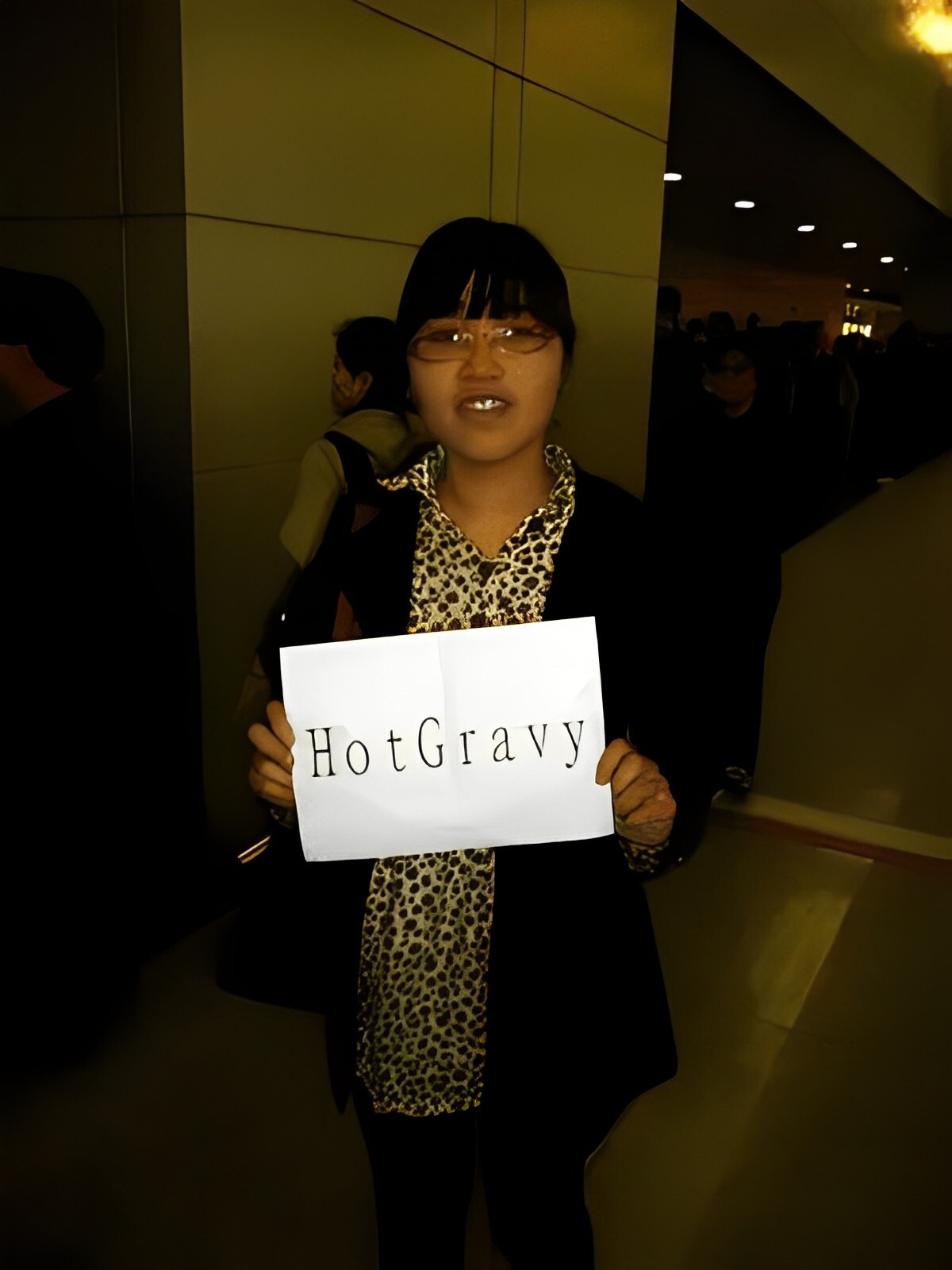 We must admit that it gave us a good chuckle. Although, we wonder if there were some consequences because of the sign, and hopefully, she didn't lose her job over the mistake. 
But, Who's Counting, Right?
It must be beyond challenging waiting for your beloved partner to return home from Afghanistan. The days must feel extremely long and tiring and you just can't wait to see them again. This woman was keeping diligent track of how many days her man was gone.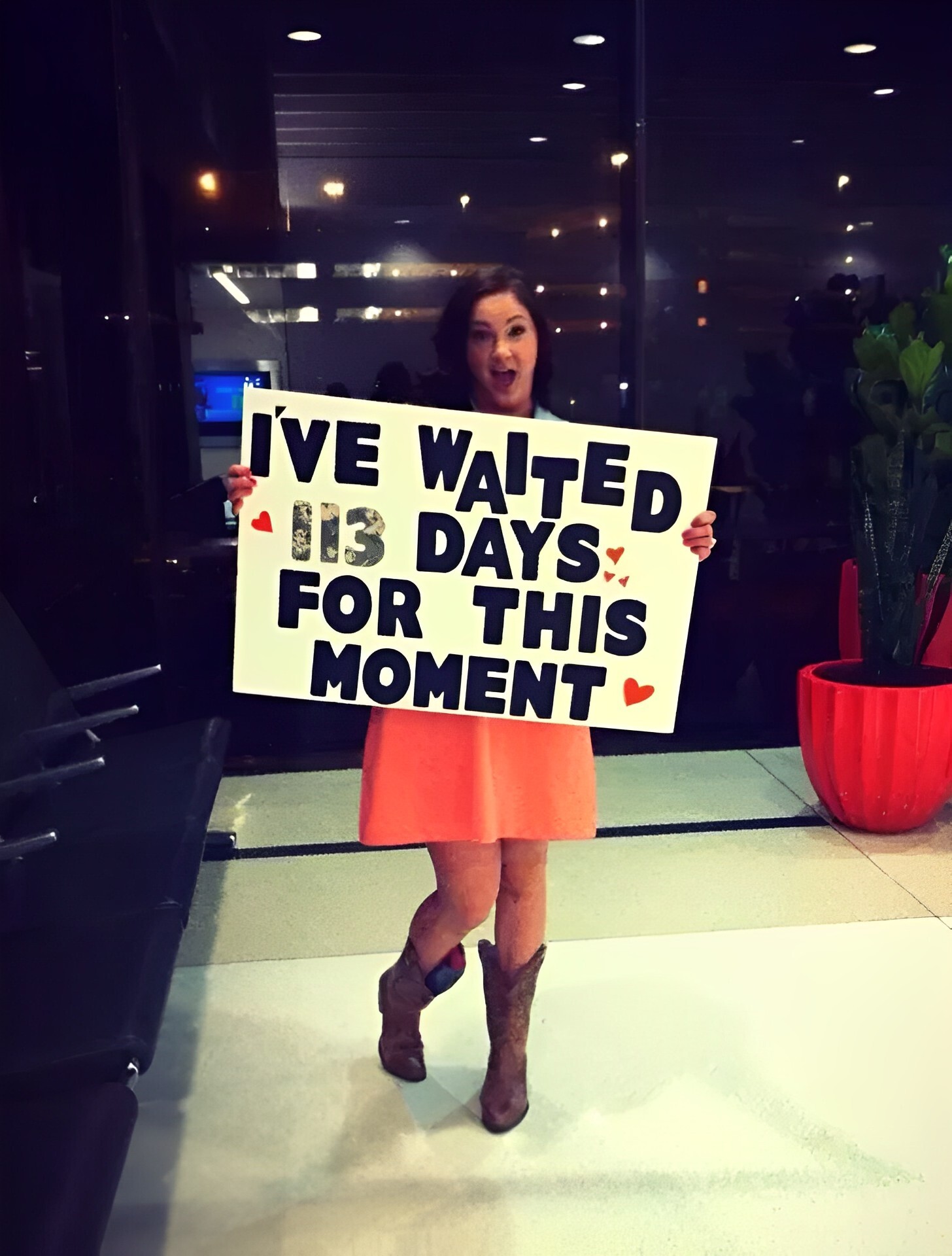 Marking each day off on her calendar meant that she was one day closer to seeing him. She must have rushed to the airport with urgency and was overjoyed when she reconnected with her one true love. 
Two Is Better Than One
The woman holding this funny sign was waiting to pick up her two best friends. It's comical to think how many guys would have walked up to her saying, "I think you're looking for us." Now, that would be something!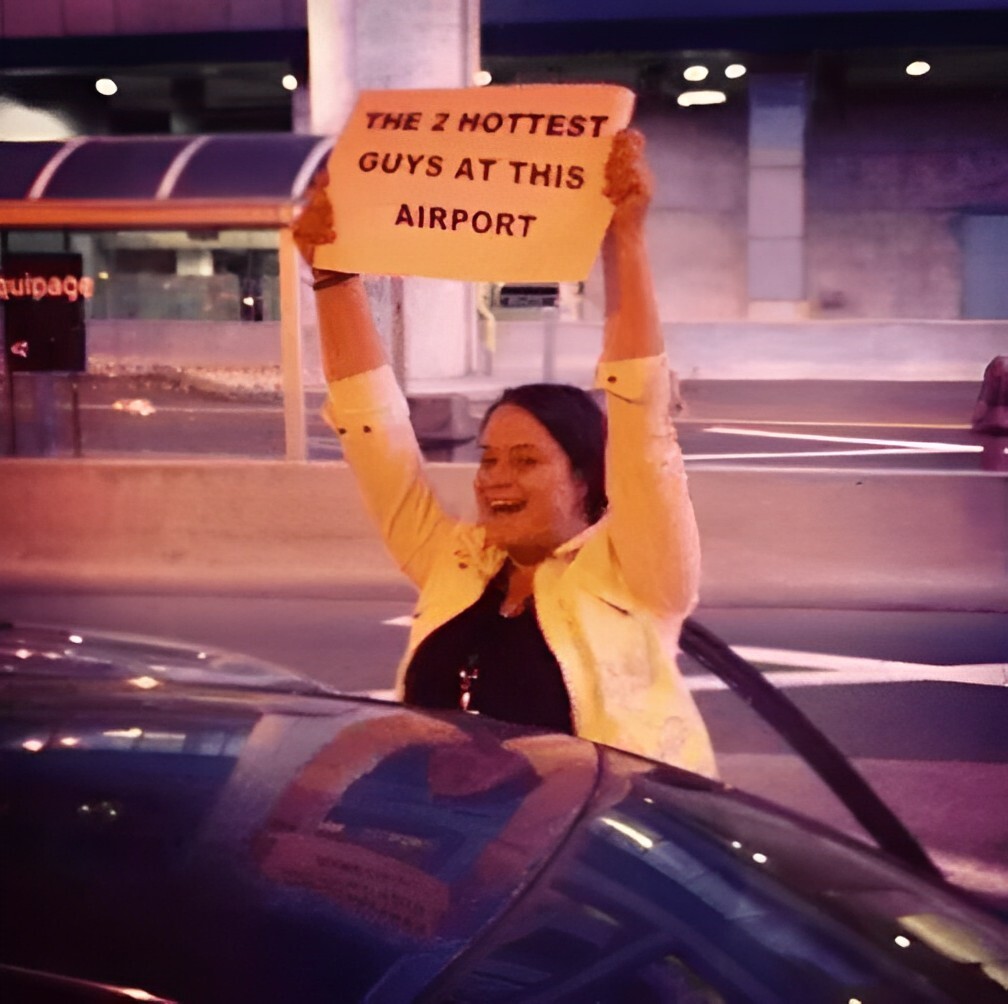 That obviously didn't deter her, since her two hottest guy friends in the entire airport were probably eyed by all the women there. Unfortunately, they both didn't feel too hot after their insanely long flight. 
Living Up To The Label
Being a ditzy person is generally a label that most people aren't proud of, but this girl calls her friend this with the utmost sincerity. In her eyes, it's a compliment. Additionally, they are pretty clumsy people and are constantly bumping into things and dropping their phones into toilets.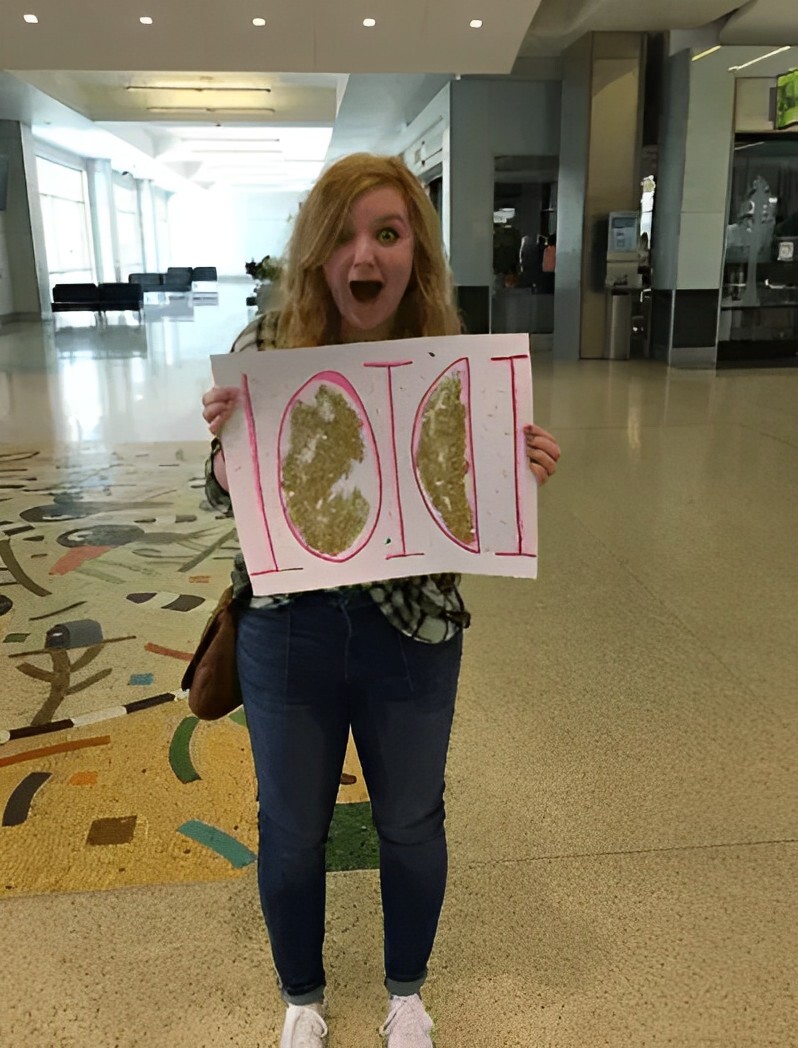 When the pair was separated, this girl wondered how she could make her friend's arrival memorable – with an inside joke, of course. We must admit that this so-called "idiot" was clever in coming up with the idea for the sign. 
A Nerd Ventures Out
Upon first glance, this obscure sign seems highly confusing. It actually refers to the popular video game called World of Warcraft, one that is typically played by nerds in their parents' basement.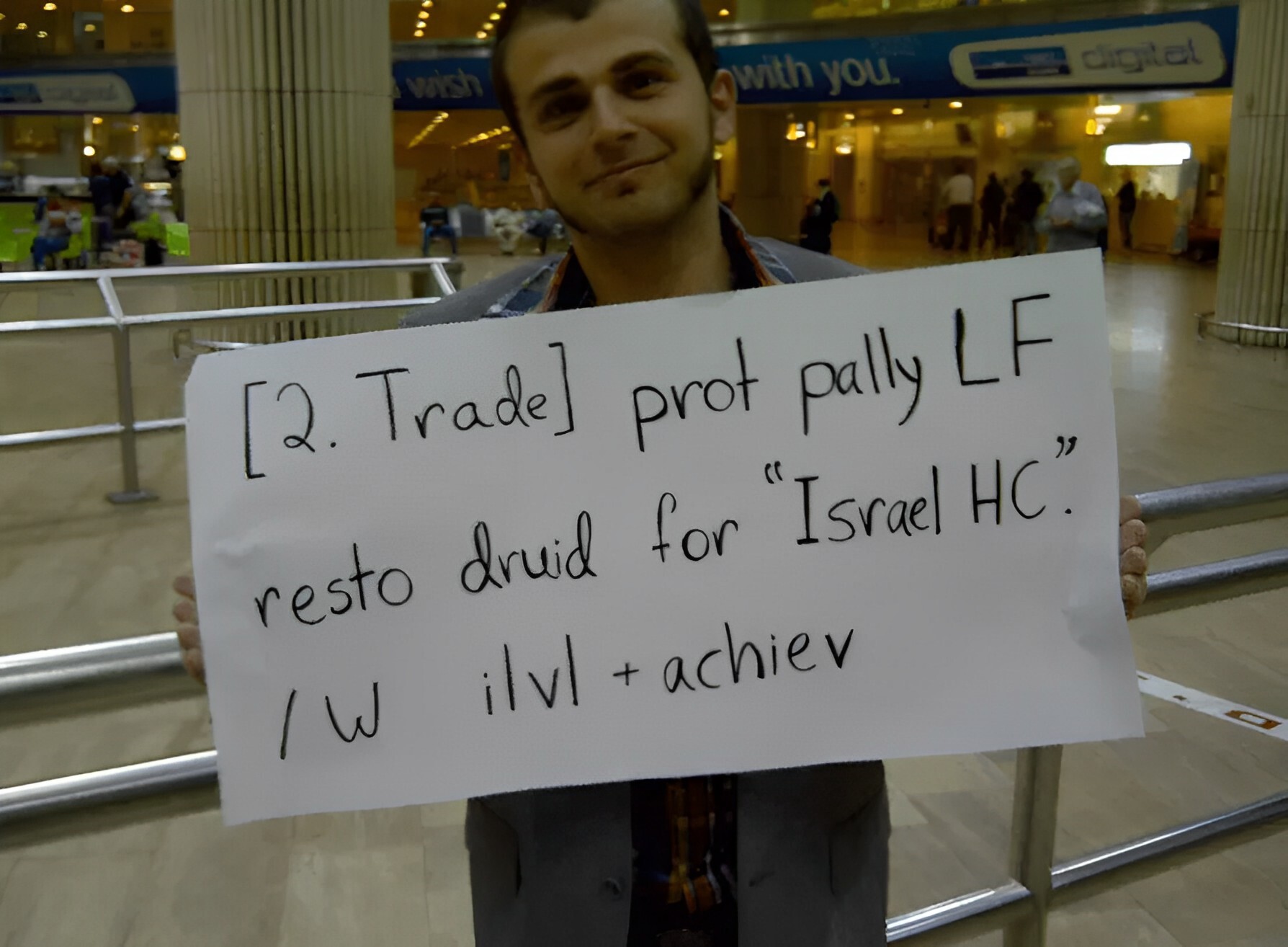 It's no doubt that the guy found himself a nerdy girl who actually understands the message. Since geeks rarely go out in the sunlight, he likely met the other video game geek online and the two hit it off. His warlock pal turned out to be real, and they probably went and played the game afterward. 
Bouncing With Excitement
The proud father in this photo was probably waiting to pick up his son who got into college on a basketball scholarship. He is very proud of him and thought this would be the perfect way to welcome him home from his first semester break.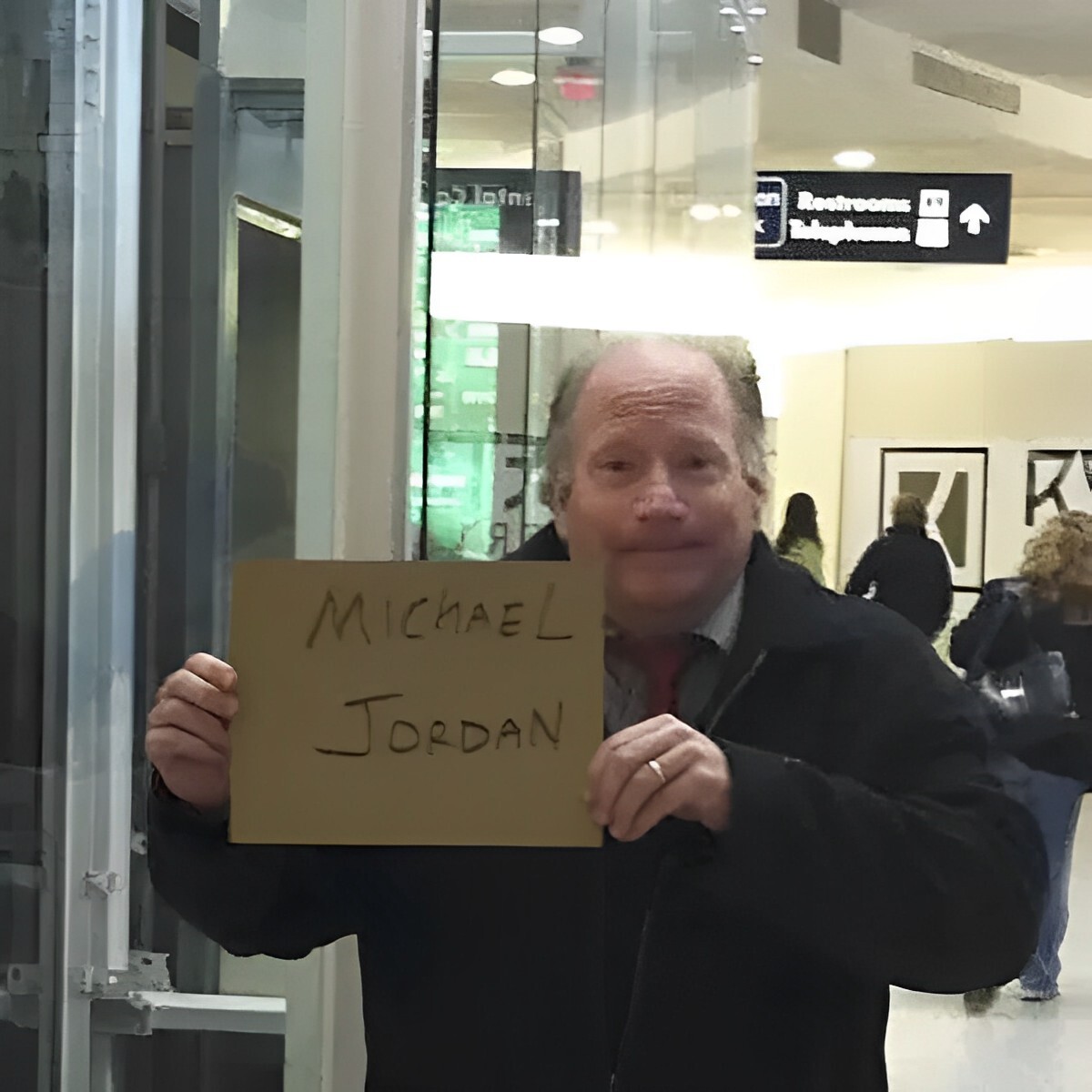 What other way to do this than to hold up a sign that has the name of his son's idol? Imagine the stunned look on the face of any person passing by who thought he was actually welcoming the legend himself, only to find out the man's son instead! 
There's No Place Like Home
When your significant other is gone for such a long time, it's understandable that people do some crazy things during their absence. All you did is count the days, weeks, months, and minutes until they come back, and spend every second daydreaming about what you will do when they're back.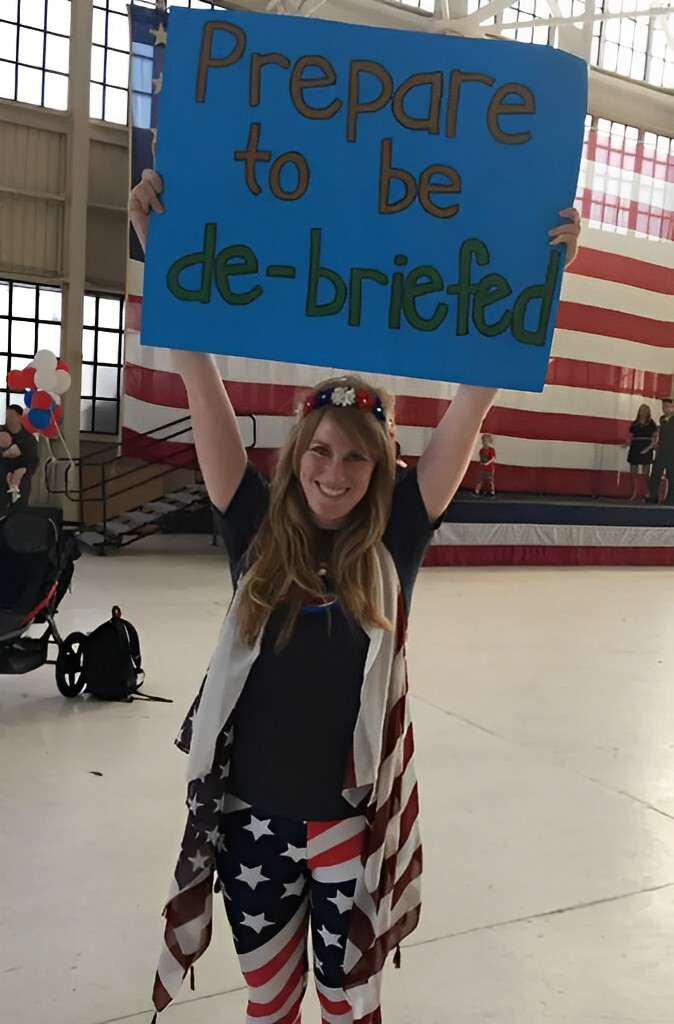 For this woman, the most important thing was for her to debrief her spouse on what's been going on in the country. Well, they will sure have a lot to talk about! 
Dad's Back On The Clock
It's not a surprise that Kaden doesn't have the best control over the pen, but he is grateful his dad is back home. And it's time for him to take the reigns!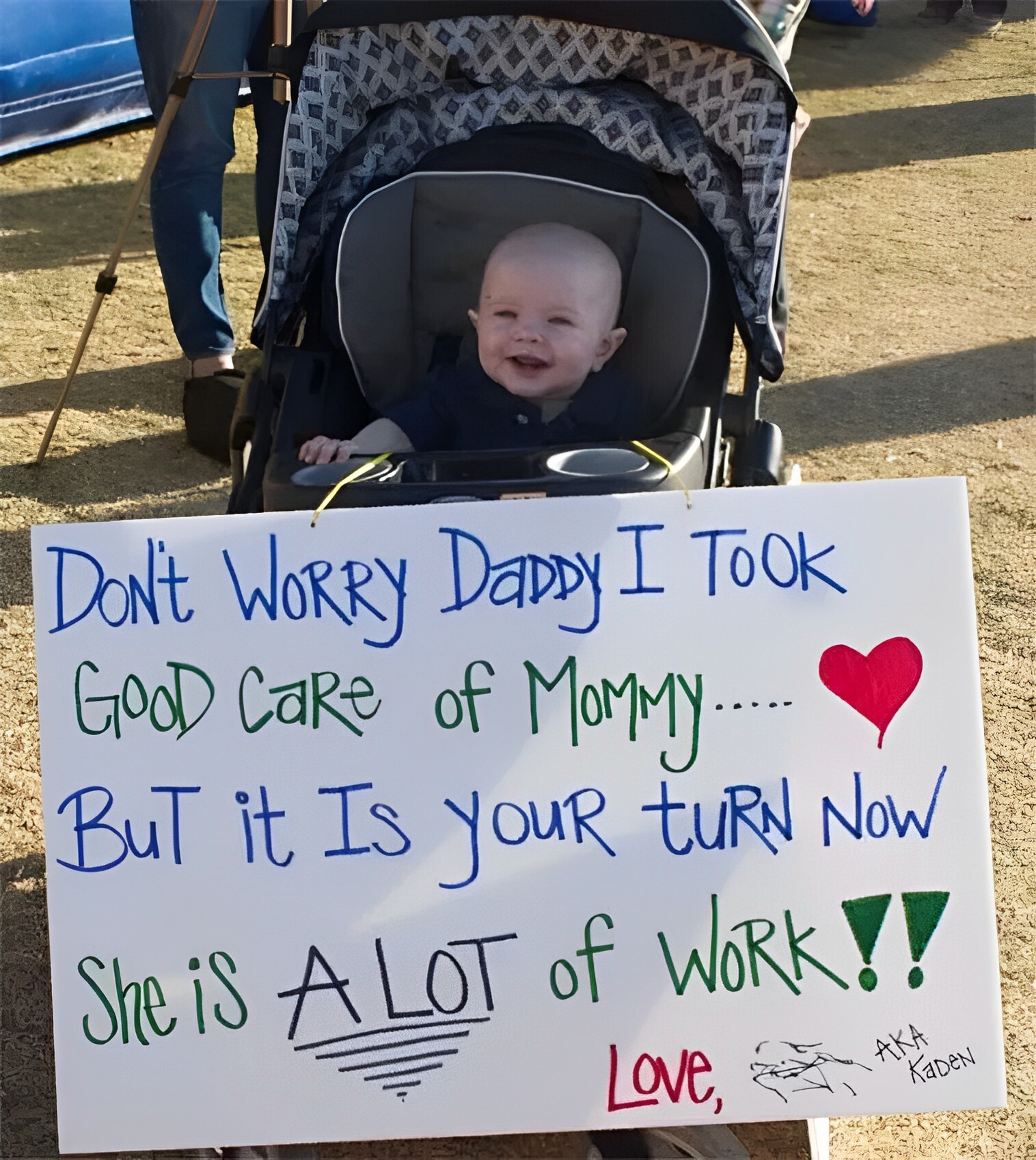 Smearing food all over his little face and making messes in the house has been enough for mom to deal with – it's dad's turn now. Thankfully, he kept mom in check and also made her a nice bowl of mashed fruit. Aww, how thoughtful of Kaden. 
Two Thumbs Up From This Question Talker
The man holding this sign has always been teased for being a question talker. What is that? They are people who use rhetorical questions but to an extreme degree.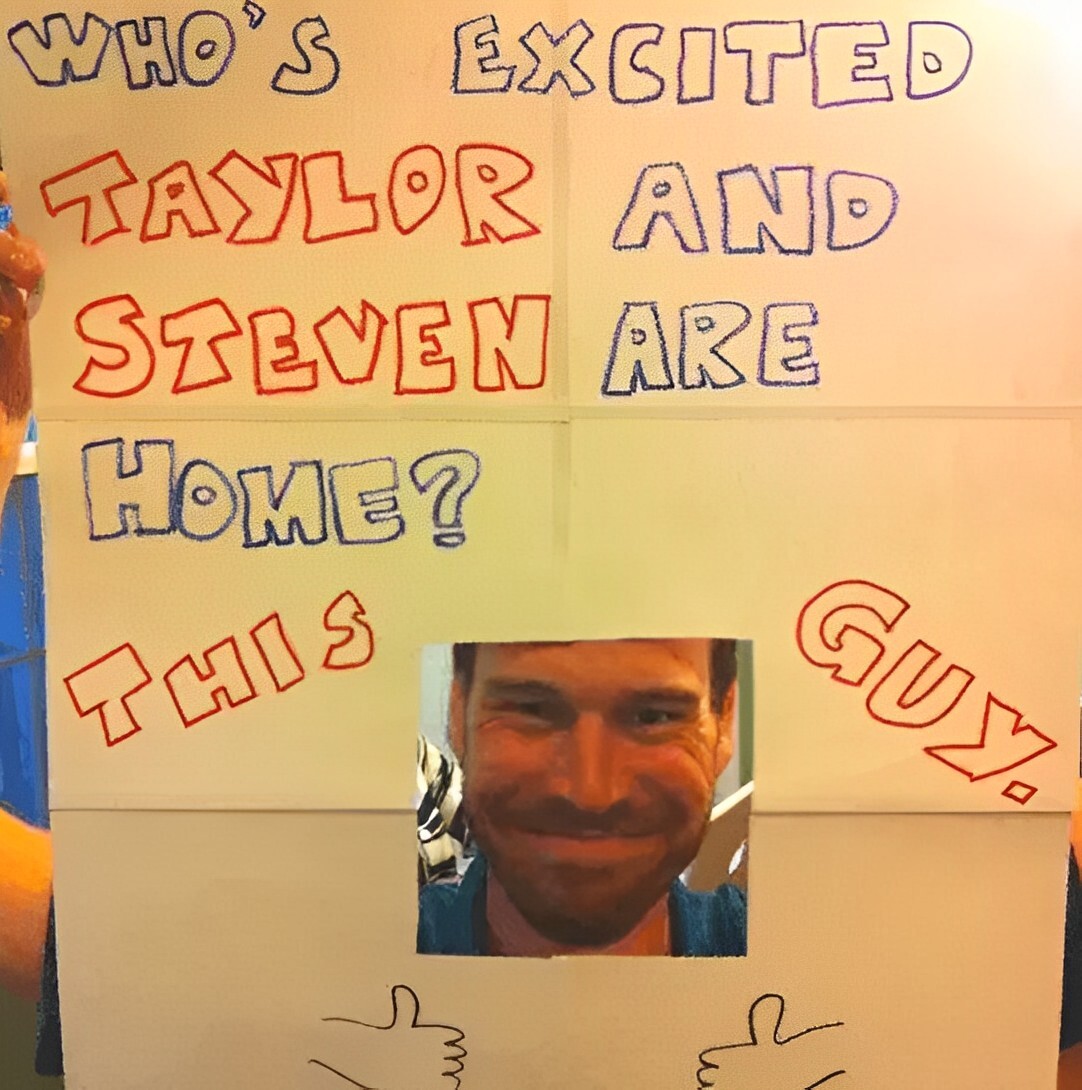 Naturally, when he went to pick his friends up, he made the decision to poke fun at the fact that he always speaks in questions. He also put on a smirky face with the whole he cut out in the sign. Plus, two thumbs up!